SC Varsity Hockey Team Wins 5-4 in Overtime Against CC
The State College varsity hockey team fought hard to win 5-4 in overtime against Central Cambria on Thursday, January 9th, making it an eventful game for spectators and players alike.
Central Cambria scored the first goal against sophomore John Olsen (#22), the starting goaltender for the night. State College's leading goal scorer, junior Robert Zimmerman (#28) scored the first goal against Central Cambria's goaltender Reece Spicher. Over the course of the next 34 and a half minutes of play, J. Olsen faced 44 shots on goal, only letting four past him.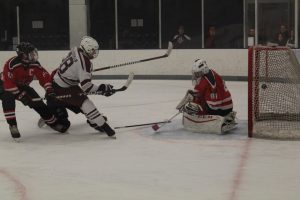 The home team began the third period shorthanded after junior Mark Rinehart-Stover (#87) got a 12-minute penalty for "checking from behind," a type of hit that doesn't allow the receiving player to protect or defend themselves because they have their back turned. Zimmerman didn't let the disadvantage stop the team. He scored an unassisted goal nearly halfway through the third period, sparking hope for the team who was now only down by two goals. With six minutes and 25 seconds left in the game, Zimmerman passed the puck to sophomore Joseph Franklin (#50) who scored another goal on Central Cambria, Franklin's first goal of the season. By now, fans were getting antsy. During the second period, there had been two instances where some players and fans believed that State College had scored, but the officials called off both goals. Now, State College was only down by one goal, but they were running out of time. J. Olsen fought hard to protect his net and keep Central Cambria from scoring any more. With only one minute and 26 seconds left in the game, freshman Zander Faust (#29) scored a goal assisted by senior Wesley Olsen (#65). The team celebrated the goal that tied the game. Head Coach Scott Balboni called a time out and the team huddled up by the bench. The 4-4 tie remained at the end of the period, which meant the game was heading into overtime. The State College Little Lions had earned a second chance for themselves, and they wanted to win.
The first period of overtime is only five minutes in duration and only three players from each team are allowed to play, unlike five in a normal period (plus the goalie in both situations).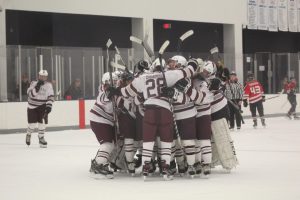 At the beginning of the overtime period, mere seconds had gone by when W. Olsen took control of the puck and passed it to senior, and team captain, Adler Gabel (#62). Gabel then passed the puck to Zimmerman who scored the winning goal 17 seconds into the overtime period. The fans erupted and the whole team flooded the ice in celebration. 
When previously asked about a piece of advice he would give to younger players, Zimmerman said: "Just keep getting up, if you're falling, that means you're working hard and that's great, never give up because hard work always pays off." His hard work certainly paid off in this game. As of January 9th, Zimmerman is currently the point leader in the Laurel Mountain Hockey League with a staggering 35 points. He leads all other players by 11 points. The team is currently ranked third in the league based on points, but they have a good chance of working their way up. 
The Little Lions worked together as a team to come back from being down 1-4, making the rest of their season look hopeful. Senior Leigh Ann Jacobs (#20) said that her favorite part of winning was, "knowing that I helped achieve the win for the team as a whole."
About the Contributors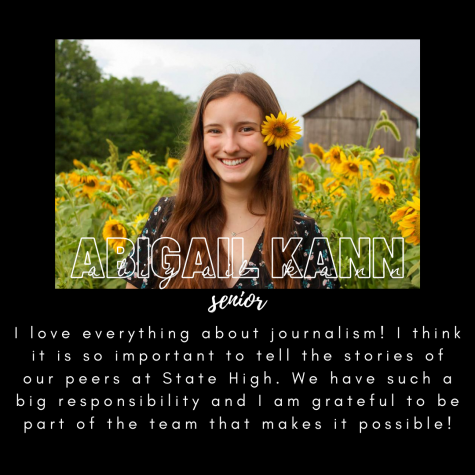 Abigail Kann, Yearbook Spread Editor
Abigail is a senior and a second-year Journalism student. This year she is excited about her new role as a yearbook spread editor as well as writing articles...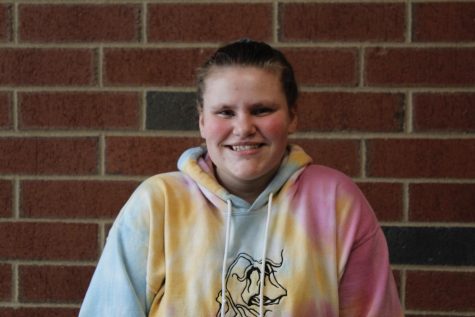 Lauren Gaylor, Staff Writer
Hi, my name is Lauren Gaylor and I'm a junior at State High. In my free time, I enjoy writing and photography. I always try to make time for outside...