State College, Chicago, Frankfurt, Madrid
After the first week of self-quarantine, I was told I had to return to Madrid, Spain. I'm an exchange student at State High, and due to this situation, my family decided to follow the several suggestions about sending me home.
At first I didn't want to believe it. Going back home during social distancing would mean not being able to say goodbye to my friends in the U.S. and not seeing my friends when I returned to Spain.
I got to process the news, but traveling during a pandemic was still an adventure–maybe a part of those new experiences I was looking for. My first flights were cancelled and this produced a lot of stress. It was really hard to find options with fewer than three layovers, or options that didn't involve spending 20 hours waiting at an airport. I wasn't sure if we would find another reasonable option. Leaving wasn't ideal, but the uncertainty and all of my things packed on my bedroom floor was even worse.
Finally, I found an option to fly two days later. From State College to Chicago to Frankfurt, and finally, Madrid. At the beginning of the year to get to State College, I had a six-hour flight and a five-hour bus ride. But my way back to Madrid was a total of 29 hours of travel.
I had an early flight at State College. There were only four people. Traveling on an almost empty plane was pretty shocking. I knew it was a small airport, but I started to see that the whole trip wasn't going to be normal. Once I arrived at Chicago, I had seven hours before the next flight. I felt pretty lonely. I had breakfast at the first place I saw opened. I got to my boarding gate early, but as time passed, I realized most of the people waiting there were European exchange students.
I was hoping that the second plane would be as empty as the first one, but I was wrong. It was one of the two flights still available between the U.S/ and Europe, so the plane was full of people from all over the country, returning to places all across Europe. The space was really tight so I couldn't sleep and it felt super long.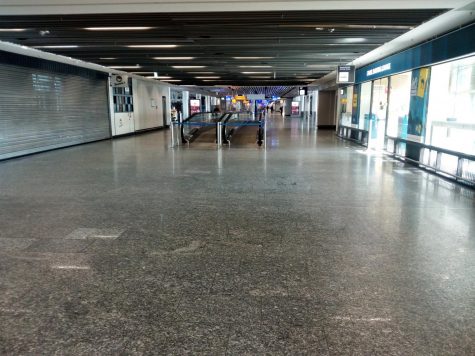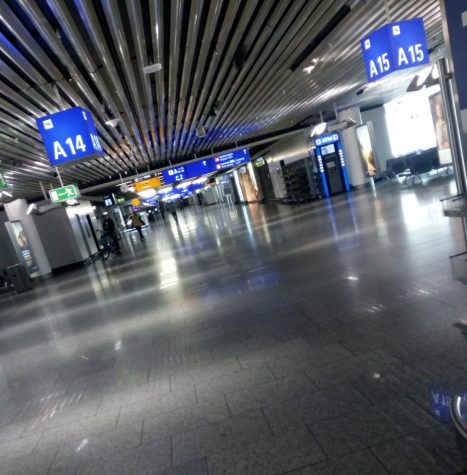 I arrived in Frankfurt tired. Germany was kind of imposing because I don't know too much about Germany. I was still on my own, and the airport was empty. No one was at the boarding gates or available to ask for information. Walking around I found a machine to search for the way to the terminal and gate. Once I got there, I waited again for a long time. This time, I found an exchange student from Spain. It was relieving to talk in Spanish for the first time in a while and to someone who was going through my same situation. She was also really sad about leaving her host family. She told me about all the new experiences she went through during this short time: sports, clubs, new friends and new places. And I could relate a lot to her so it made me feel a bit better. That was my last flight. By that point I was tired and my only desire was to get home. I didn't sleep for a day and I had been traveling for too long.
When I landed at Madrid I thought all the surreal images of empty places and people with masks were over, but it was even more shocking there. Only one member of my family could come pick me up and they couldn't enter the airport to wait for my arrival. I had to sit in the back of the car on the opposite side. Parking was restricted, so we had to walk for a while through the highway to get back to the car. Going into the city was crazy because it didn't look like the city I left. When I finally felt a sense of relief, the police suddenly pulled us over. They asked for our documentation and checked that I was coming back from the airport. They were actually a little mean, like they were mad at us. They suggested that I should have taken the subway, even though I was a minor traveling with three suitcases!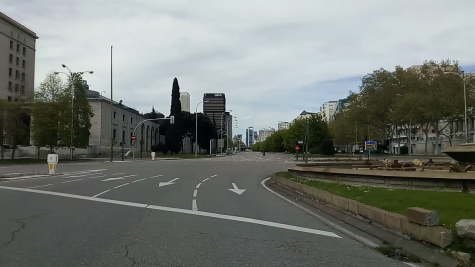 Once we were at the Main Street, there were no cars, no people, no noise. I couldn't believe it. As my way home advanced, I was becoming more and more conscientious of what was going on. In State College, it already felt kind of weird. In Chicago, most places were closed, but I could see some people at the airport. Frankfurt's airport looked like a ghost town. And Madrid… It just wasn't the same.
And now I'm home, waiting for all of this to be over (as is everyone else). Waiting for the day when I can see my friends. Here, people on the news talk about the "new normality," and that scares me a lot. They talk about phases of recovery. In a few days we might be allowed to go exercise outside for an hour, but the only thing I can think about is if I'll be allowed to hug my friends soon. A hug is just what I need after all of this.