Our own State High band: Here All Week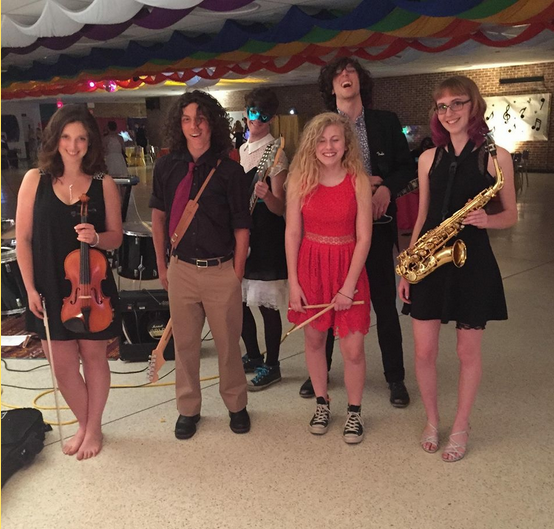 Here All Week is an Alternative/Progressive rock band comprised of Joe Caldwell, Aaron Gayan, Anna Hirsch, Ally Ellis, Charlotte Hatch and Matt Wherley. Caldwell and Gayan formed the band in November of 2014, originally as a way to practice their songwriting in a band setting, but has since then performed on numerous stages such as the Battle of the Bands.
Musician Jozef Caldwell, a senior at the Delta Program, sat down with Lion's Digest to discuss his band and his beginnings in the world of music.
How did you get into music?
"Middle school guitar got me into music actually. I told my teacher back then that I didn't really listen to music, and what did she recommend? She recommended that I listen to some of the Beatles, and I listened to them forever after that."
When did you start writing music?
"The summer before Here All Week, I did this one writing project with this rapper, actually, just for a week. He and I did not get along very well. When Aaron and I got together we just got right down to writing, and I just write really well with that guy."
Who would be your greatest influence?
"It definitely was the Beatles for a long time, but I have a new influence every month. My current influence, this band called the Dearhunter I've been really getting into. They're very progressive rock, lots of people, horn section, string section."
What was your first performance?
"Mine, personally, back in middle school. My middle school used to run these camping trips. They had a talent show kind of thing, and me and a few guys just put together some covers of Who songs and played there. And it was alright. I mean we weren't good, but we didn't know we weren't good."
What made you decide to make a band?
"I was already in a band actually, when I made Here All Week. I made Here All Week specifically because, in the other band, I wasn't always the person writing music, and I always thought they were better than me at it. I wanted a group that Aaron and I could start writing for."
What was your first performance with Here All Week?
"The first thing Here All Week did was this performance over in the Fairmont building, which is where the Delta Program is. But it was for this organization called Sounds, and they were doing this night with a whole bunch of bands. It was just sort of a big night of music, not a lot of people came, but it was a lot of fun."
Have you written albums for Here All Week?
"We wrote a bunch of songs and we were just recording an album over the summer with our friend Zach McGowan. We're working on mixing and mastering it now. Hopefully we will be able to release it early next year."
What songs would you recommend to someone who hasn't listened to your music before?
"I'd go for the Live at the Battle of the Bands on our Bandcamp, they're good ones. That's a good place to start."
Here All Week does not have any public events currently scheduled, so chances are slim to catch them live right now. They will no doubt start performing publicly again after the release of their new album set for early 2016. For more information about the band and their music, head over to their Facebook page or Bandcamp.com.