Travis Scott's Unique Collaboration with McDonald's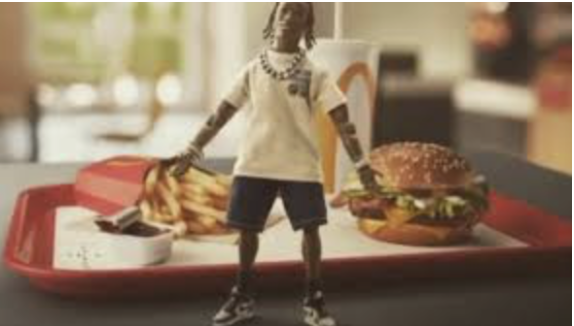 Houston born rapper Travis Scott has not only been topping charts but has also been getting in many unique endorsement deals, his most recent being McDonald's. McDonald's used Scott's fan base and created a signature meal that can be bought for six dollars.
"I couldn't be more excited to bring the Cactus Jack and McDonald's collaboration to life," said Scott, who confirmed to be a die-hard Mcdonald's fan in his hometown of Houston, Texas. It was a dream of Scott's to have an enthusiastic fanbase and provide unique endorsement deals like this one with McDonald's.
The quarter pounder burger has sold out at almost every McDonald's restaurant and has drawn attention from all over the world, especially from teens. Scott is one of the top rappers out right now, and every teenager sees themself following in his footsteps, wishing to grow up like him.
Scott is the first celebrity to be featured on the McDonald's menu since basketball player Michael Jordan was featured in 1992. Both of these celebrities featured their own quarter pounder burger which they would want to put on the menu.
McDonald's has recently gained popularity in the music and rap industry. When this burger first released, people from all over the U.S. went to McDonald's to get a burger.  Scott's and McDonald's collaboration was successful in drawing customers that might have not usually bought from McDonald's.
McDonald's has not disclosed how much they are going to pay Scott, but they are planning on spending 100 million dollars this year on marketing and are working to provide fast customer service. Scott is also making his own merchandise as a part of his collaboration which includes t-shirts, hoodies, jeans, and many accessories. The accessory that has garnered the most attention is a body-sized McChicken nugget pillow.  
McDonald's and Scott set themselves up for future success with their innovative marketing plan. From their social media presence to hype among fans, the collaboration has gotten the world's attention and future collaborations look bright. Scott and McDonald's have set the industry's pace for unique collaborations and fans are waiting in anticipation for future projects like this.