Varsity Boys' Soccer Team: Victorious on Home Field
State College Boys' Soccer played Cumberland Valley the afternoon of Tuesday, Oct. 13, at the north field across from the high school. Varsity came out strong with three goals at the beginning and held onto the momentum to end the game with a final score of  4-3. Having won five games prior to Tuesday, the varsity team looks to be having a strong season. Being victorious in this game makes the team record 6-2 this season. 
Junior varsity lost the game with a final score of 0-2, in favor of Cumberland Valley. Although they lost, they still stayed to cheer on the varsity team as they played right after. This loss is only one of three that the team has gotten this season, with a standing of 3 wins, 3 losses, and 2 ties.   
Varsity 
Looking at past seasons, State College Boys' Soccer struggled with defeating Cumberland Valley. Cumberland Valley was undefeated this season and was the top-ranked team in the league. After State College won Tuesday night, they took over as the best team in the league, proving that they are a force to be reckoned with. Senior Ty Price who has been playing since his freshman year was ecstatic about the win. Price was proud of his team for working hard and proving they could be on top.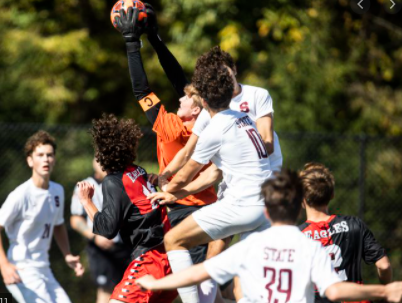 "We went in there and put in our best effort and we beat Cumberland Valley, " Price said. 
Out of the four goals scored, freshman Owen Hollobaugh earned three of those, with one assist from junior Davis Pagett. Pagett then went on to score the final goal with an assist from senior Grady Ballard, to create a score of four. Hollobaugh, Pagett, and Ballard proved to be some of the best players on the team. Hollobaugh often scores goals at games. 
Although this season has been a little different than most, it has not ruined the spirit of the team. Ballard explained that this season has been one of the best he has ever played and is looking forward to finishing the season out. After already losing to Cumberland Valley earlier this season, Ballard was overjoyed that they had been able to take the win home. 
"We came out with a higher intensity than they did. We came out with a loss at Cumberland Valley so they thought they could just come and walk all over us, " Ballard said. 
The motivation to win this game was shared between all of the players. After not beating Cumberland Valley for about two years, they were determined to win. 
Junior Varsity 
While the junior varsity team lost 0-2, they put up a great fight throughout the whole game. Freshman Colin Murphy talked about how the game was very competitive and Cumberland Valley just got the best of them that night. 
"The game yesterday was played well by both teams, they[Cumberland Valley] put their passes on the ground and played it to their teammates' feet all game. While we played our game sending balls through the defenders and just got unlucky with our finishes, " Murphy said. 
Like most of the junior varsity team, Murphy was very proud of how they played until the very end and how they did not let those Cumberland Valley's goals hurt their playing. He went on to explain that the team has had a very competitive season, and that every game ends with the same problem: they can't get the ball in the back of the net. 
"We get the chance but we get unlucky when it comes to scoring," Murphy said.
Both the varsity and junior varsity teams had eventful games. The players battled hardship and exhibited determination until the very end. The boys' soccer season is still not over, so be prepared to watch out for more wins.