Penn State vs. Army preview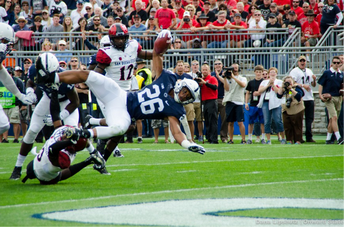 Alright, I was quite nervous to start writing previews every week, because when I did it was the worst Penn State game I've seen in my entire life, but I have a good feeling this weekend.
Important Info
Broadcast Information:
Date: Saturday, October 3
Time: 12:00 ET
Network: ESPNU
*Line: Penn State -26
*O/U: 46.5  
*as of 10/2/15
If Penn State is playing the way it has over the first month of the season, the defense shouldn't have any problems shutting down the Black Knights. So now it's all about if the offense can keep progressing – or at least the passing game – after a solid performance against San Diego State and Running Backs Saquon Barkley and Akeel Lynch looking questionable, this is the game to really start trying out the passing game
Losing for Fordham was a problem for Army, but the three losses were by a total of ten points before finally coming up with the first win of the season, taking down Eastern Michigan last week. With Duke and Bucknell up next at home, it's never getting easy for the Black Knights, but this weeks goal is to try to throw off Penn State
How Army will Win
Is it possible the Black Knights can just sit on the ball? The running game will have a hard time getting moving against a tough Penn State front seven, but if the running attack works just a little bit and they can hold onto the ball, you never know.
How Penn State will Win
The offense should be able to do whatever it wants to. Christian Hackenberg finally started to find a groove last week against San Diego State, throwing for 328 yards with three scores. He had to with a running game that struggled after Barley and Lynch going down. Against Army, Penn State will start out by pounding away, and then Hackenberg has to do what he did against the Aztecs and make plays. It took a few weeks, but the O might finally be working.
What's Going To Happen?
Army's offense more than likely won't go anywhere. This is a horrible matchup for the Black Knights against a Penn State defensive front that'll get into the backfield and stop the option before it can get going.
Prediction
24 Penn State, Army 10