All About Key Club's Blood Drive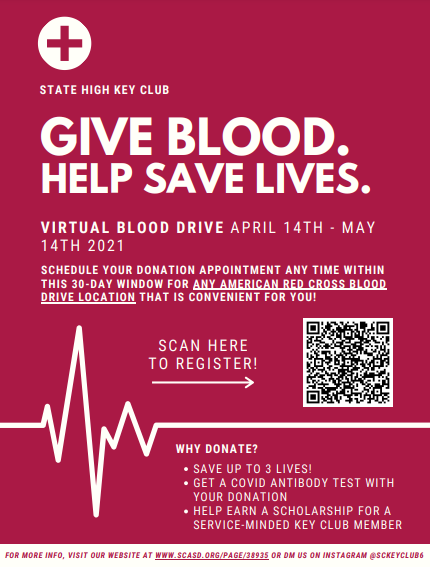 When you ask someone whether or not they want to save a life, the answer will most likely be yes. Everybody wants to save lives and make an impact on the world, but the only problem is finding ways to do so. As teenagers, it can be hard to find impactful and fulfilling activities to do that help to make the world a better place. Luckily the State High Key Club is running a blood drive for students, (an excellent opportunity to help others and give back)!
The Key Club's virtual spring blood drive will be taking place from April 14th through May 14th this year. The registration for this blood drive is simple and quick; all participants need to do is register for a slot by scanning a QR code and filling out this form sent out to State High students' in an email from Curtis Johnson.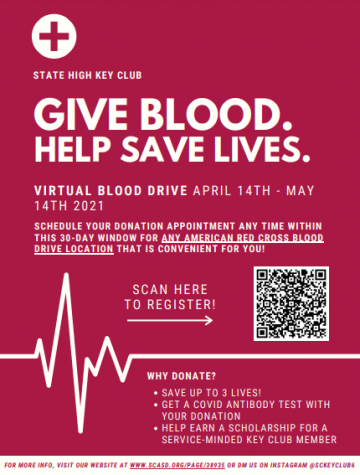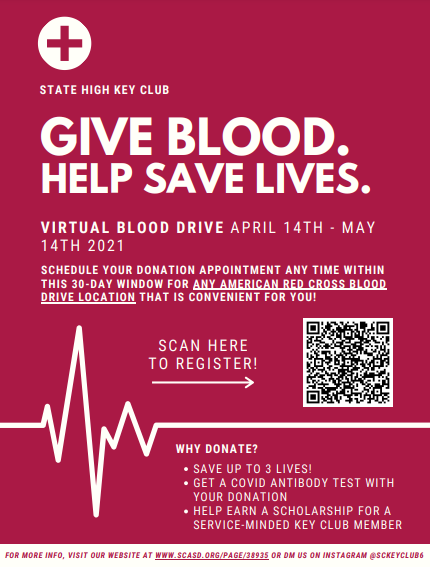 (This is the flyer for the blood drive, which is run by the red cross. The QR code will send you to the form to fill out.)
In normal years, the blood drive would only take place in one location. Due to the pandemic, the blood drive is more flexible, with students being able to choose their own appointment when giving blood. Violet Doyle, who is the freshman representative for Key Club adds to that, stating, "It used to be that you would have the blood drive for the school, but now you can choose your location and do it. It is just so much easier and independant."  
So why is donating blood so important? Well, simply put, giving blood saves lives. One donation of blood can save up to three lives, and can really help people who are struggling. Traditionally, there is always a demand for all types of blood, so your blood will never go to waste and not be needed. 
"Donating blood is one of the best things you can do for the community and for other people. Most people never save one life, so being able to save three lives is really impactful," said Doyle. 
Another thing available this year is the option to find out if participators have COVID antibodies, (proteins made by the immune system to fight infections). If they do, then they are able to donate their antibodies to COVID patients who are struggling with their symptoms. These patients receive their donor's antibodies, helping them fight the infection. This issue is obviously a very urgent one, and is something that a lot of struggling COVID patients need.  
This past year has been hard on everyone, so the least people can do to give back and help others is to participate in the blood drive if they are able to. By giving blood, participants are selflessly supporting people who are struggling. With this year being nothing but tough, now is the most vital and important time to help out and contribute to helping others.