Homework This Year, Is It Too Much?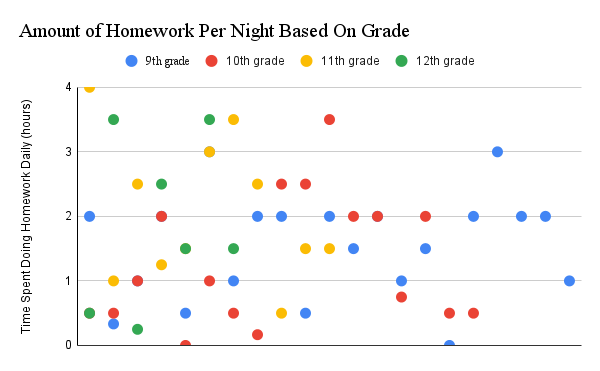 With the return of completely in person school comes an increasing amount of homework for students, many of whom have never had a full year of in-person high school. So how much homework can we expect for the year, and how do the students feel about their workload? 
A random survey of 50 students at State High found that on average, students spend 1.645 hours per day on homework. There were a variety of answers on how much time students spend on their homework per night ranging all the way from none to four hours. 
After talking to a variety of students, most seem to be managing their workload relatively well, although because it's still the beginning of a year (and our first year back after COVID), it's quite understandable that people are still getting into their groove with extracurriculars and school. 
"Try to utilize your study hall and plan out your day in order to manage extracurriculars and homework well," said freshmen Ally Duncan.
With all the extracurriculars and sports that students have going on in their lives, sometimes homework can feel like an extra unnecessary burden.
"I wouldn't say overwhelming," said senior Ben Abel, explaining his workload. "Just a lot, as I'm also working on college essays at the moment." This may be a common concern for some seniors. 
"I can feel it starting to get overwhelming and especially because we're still in the beginning of the year phase, so I think in the middle of the year things are going to get harder," said sophomore Angie Abraham. Others have also expressed this as a concern for the future. 
Additionally, junior Brynn Bortree pointed out an added struggle.
"I think the amount of homework I get on top of the other stuff that I do sometimes is difficult," said Bortree. "Especially because homework is unpredictable, I don't know how much I'm gonna get so sometimes I find I don't have enough time." The uncertainty of homework can often make scheduling difficult for some. 
Of course, homework is also an important part of learning.
"Physics is learned by doing the homework; each problem presents a unique twist on the application of the principals," said AP Physics teacher Bob White. "What we're trying to get across is the transfer of new skills and knowledge to new situations."
Although White recognizes that he does give a considerable amount of homework, he does feel it's necessary for the AP curriculum.
"A lot of physics is learned by problem solving and engaging with the material versus just what I would say in class," said White.
Ninth grade English teacher Rachael Borden tries to limit the homework she gives her students to 20 minutes at home by giving class time to work on it.
"Since I teach English class, I think that a lot of the homework is reading time, and that can't be done in class," said Borden. This  makes up some of the homework she gives. 
As the year progresses,  the amount of homework is likely going to reach a pattern, and ideally everyone will be able to manage as they fall back into their pre-COVID rhythm. If homework for you feels overwhelming now, know you're not alone.