Introducing the 2021-22 State High Homecoming Court
Some things are simply a State High tradition; the white out football game, overly crowded bathrooms, and that ceiling leak in the cafeteria that is never quite patched up. One of the most memorable traditions is our State High homecoming court, a decades-old tradition that has been revived for the 2021-22 school year. 
This year's Homecoming Court, selected through an online nomination ballot, consists of 12 students that hail from a variety of different clubs, groups, and communities. Here's a closer look at the contestants for the 2021-22 State High Homecoming King and Queen.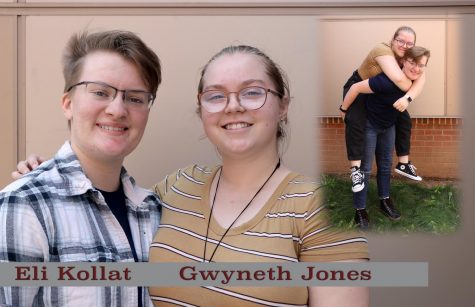 Eli Kollat and Gwyen Jones spend most of their time in the ARTSmART wing of State High, a hallway off the cafeteria dedicated to supporting all kinds of artistic students. 
"I'm in three different choirs, right now," Jones shared towards the beginning of the interview. Both Kollat and Jones have been involved with the arts and music programs since their freshman year of high school. 
"We've both been in Marching Band for the Homecoming Parade for the past four years," they explained. "We're kind of representing the music department in that sense, I guess."
But Kollat and  Jones are representing a different community too.
"The spirit of change to see an openly gay couple on the Homecoming Court is what got us here. I'm really glad to have that support from a lot of people," Jones said. 
When asked what their experience had been campaigning as an openly gay Homecoming Court couple, Kollat took a few tries to find the right words. 
"It's interesting…it's a touchy subject, because I think parents may not agree with us being represented openly, some students may not agree with it, but I feel like we have the majority who support us."
They definitely do. The couple made a bit of a social media frenzy two weeks ago, when one of their friends created a locally trending hashtag on Instagram and Snapchat. The support has caught them off guard. 
"I asked one person to vote for us, and suddenly it was being shouted from the rooftops. I wasn't expecting it to blow up how it did…there was a hashtag, it was crazy," Jones recounted, the shock still evident in her voice.
But all the public attention hasn't been easy.  
"My mom was really proud of me, but also scared for me, too. She'd say that she didn't want me getting hate, or getting hurt," Jones explained, breaking eye contact for the first time throughout our interview. "But I can't live my life in fear. And I can't do nothing." 
Indeed, the representation is bigger than Kollat and Jones themselves. The Homecoming Parade is attended by countless families from State College. Many young children look up to the State High Homecoming Court as a sparkling symbol of beauty, teenage years, and joy.
Kollat themself recalls feeling that awe, saying "I remember being young, seeing the people on the homecoming court, and thinking 'God dang, they're really pretty.' I just thought they were the coolest people in the world."
People often say they don't care about winning, but this couple really means it. For them, according to Kollat, it's all about the parade.
"The one message I want to send is it's not about winning Homecoming Queen or King. I think the message is being in that parade, and representing the school, and also representing whatever community you're a part of. In our eyes, we've already won."  
Jones' parting words are a little more spunky, but no less true. "Mix it up a little!" she exclaimed with slight exasperation. "You wouldn't want to get one flavor of Starbursts or Skittles. You need to spice it up, mix it up. Representation is important."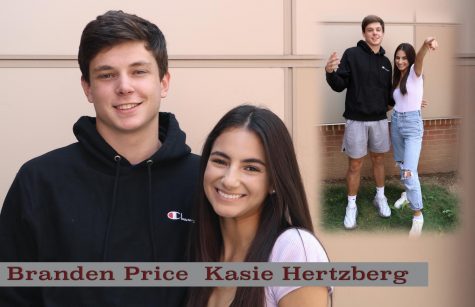 Branden Price and Kasie Hertzberg are perhaps the most classic couple on State High's Homecoming Court this year; together for two years, Price plays on State High's football team, and Hertzberg dances competitively. They're both so busy, in fact, that our interview was completed online. 
While Hertzberg certainly has a lot of face value (she models in her off-time), there is much more than meets the eye. 
"I'm involved with DECA, Future Business Leaders of America, and I work at Connections downtown," Hertzberg shared.
Hertzberg is also currently serving as State High's Senior Senate Treasurer, so she has been heavily involved in Homecoming's execution this school year. 
The couple was nominated to the Court through a casual campaign of friends, but the nomination has been something Hertzberg has thought about for a while.
"My mom was Prom Queen [when she was in high school], so I knew this was something I wanted to do. It's a great way to get involved in the school," she explained. 
Homecoming has always been an event the couple enjoys. Price plays in the Homecoming game every year, and Hertzberg has cherished Homecoming week all through her high-school experience. 
"I love seeing the school come together for spirit week, the parade, football games, and the homecoming dance," Hertzberg said. 
With the State High Homecoming Parade, Game, and Dance occurring in back-to-back days, it's easy to be swept away in the festivities. But Price and Hertzberg's biggest piece of advice is to slow down when you can and enjoy it. "Take advantage of this time, because this is when a lot of your fun high school memories are made," Hertzberg suggested wisely.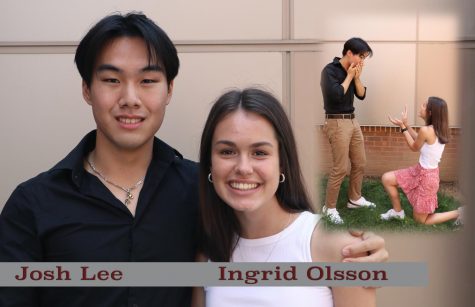 There's an easy flow between Josh Lee and Ingrid Olsson that only comes from a long-lasting friendship, one that started four years ago.
"I guess we met through band, and then marching band," Olsson said contemplatively as Lee nodded his head. "That was freshman year, and we've been friends ever since." 
This year, Olsson is in color-guard, whereas Lee has assumed the Drum Major position for the State High Marching Band, the highest title available. In addition, Lee competitively plays piano, and Olsson is involved in a slew of clubs, including Best Buddies and MiniTHON. 
They've been talking about being on Homecoming Court together since ninth grade, too. 
"Josh and I have actually wanted [to be] on Homecoming Court since freshman year. Like, this was the goal," Olsson said while laughing slightly. "We were telling everyone to nominate us because it created this full circle [from ninth grade], which I just think is awesome."
Lee elaborated upon their journey to the Homecoming Court Ballot, saying, "We encouraged a lot of people to vote for us, especially in Marching Band. A lot of those seniors nominated us, which is the reason we're on the Court." 
Both Lee and Olsson have been in the State High Homecoming Parade for the past three years, for Marching Band and Color-guard respectively. Lee in particular enjoys the parade. 
"I really like the parade, that's probably my favorite part. Whenever people throw candy to the kids on the sides," Lee recounted. 
Despite the excitement around the race for Homecoming Queen and King, Lee and Olsson are over the moon just being on the Court.
"Being on the court just seems fun, it's why I'm looking forward to [Homecoming]," Lee shared, and Olsson agreed wholeheartedly. "We've wanted this for so long, and we're just so excited to be here."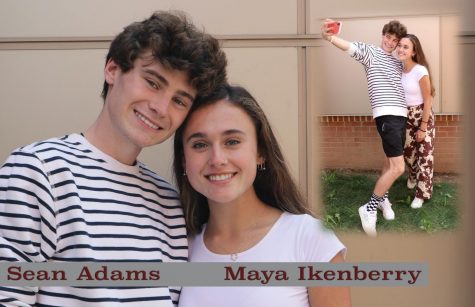 Maya Ikenberry and Sean Adams have a lot in common.  They both run for the State High Track team—Ikenberry is the captain for Girls' Cross Country this year—and they both participate in Model UN, although Adams' enrollment is a newly found endeavor.
"Can I say I do Model UN? I'm technically joining next week," He looked at Ikenberry when he asked the question, and with her affirmative nod, he said more confidently, "I guess I'm in Model UN then."
Adams and Ikenberry's interview was filled with laughter. A favorite phrase of theirs was "this is off-the-record," which of course, it wasn't. "I knew you were gonna say that!" was another common phrase for the duo. 
They started off discussing their journey to get the Homecoming Court Ballot, which included, as Adams called it, "a word of mouth, grass-roots campaign." Ikenberry pulled out her phone and shared a photo of them she posted to her Snapchat. In the photo, they're sitting outside in the dark, staring blankly into the camera, with a crooked white text slapped over top that reads "Homecoming Court." 
"Yeah," Ikenberry laughed, "That was really all we did."
Their campaign worked, clearly, and Adams opened up about what the opportunity to be on the State High Homecoming Court meant to him.
"I come from a big family. I have five older siblings who have all gone through the school, and none of them were actually nominated or even considered something like this. I think it's kinda funny to have that over them, that I was nominated," he shared. 
While they're both excited for the experience, there was a bit of trepidation on Adams' end initially. 
"It was a bit of insecurity on my part, for a while, because I thought I'm not like the face of our class, or anything like that." He paused for a moment, before concluding, "But, obviously, we got nominated for a reason I guess." 
Ikenberry encouraged everyone to overcome that all too common insecurity and self doubt. 
"If you want to do something, just do it. Don't care what people are going to think about it. Just do it for fun."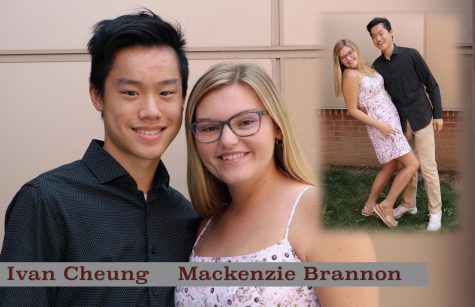 Kenzie Brannon and Ivan Cheung have a lot of enthusiasm. When asked why they wanted to be on Homecoming Court, Brannon eagerly answered.
"It's just so fun! I've always watched the people in the Homecoming Court with a good excuse to sit upon a convertible with a pretty dress and I cannot wait. I'm so excited for it," Brannon shared.
"Yeah, it'll be a fun experience," Cheung added. "We'll have a good time, you know?"
Cheung and Brannon compete as a team in Future Business Leaders of America, a club here at State High.
"Since we do FBLA together, I think we're kind of representing them," Brannon said. 
Outside of FBLA, Cheung also competes in DECA, whereas Brannon pursues a more musical hobby. 
"I've been in marching band for all four years of high school, which is super fun," Brannon said. "It's something I dedicate a lot of time to outside of academics." Brannon participated in the Homecoming parade for marching band, but her connection to the parade goes back much further than high school. 
"I've watched the Homecoming parade ever since I was a little kid, and it's such a fun environment. It's super lively," Brannon recalled fondly. Ironically, however, the 2021-22 State High Homecoming will be a first for Cheung. 
"I've actually never been a part of Homecoming," he confessed. He's certainly starting (and ending) his Homecoming experience on an enjoyable note. 
"We're not really in it to win, we're just participating for the experience," Cheung shared. "We're in it for the fun."
Brannon ended the interview by returning to the heart of State High Homecoming. 
"Going to the dance and the games, it's a really fun time of high school. That's how you know high school: Homecoming. Everyone shares that experience."
Not available for comment: Austin Miller and Ava Reed
The 2021-22 State High Homecoming Court will be featured in the Homecoming Parade at 6 p.m on Thursday, Sept. 30. The parade route can be reviewed here. Homecoming Queen and King will be crowned at the State High football game on Friday, Oct. 1 at Memorial Field.