Diving Into The Lion's Learning Lounge
Some may have noticed the flyers posted around the school about the Lion's Learning Lounge, but what exactly is it? In short, the Lion's Learning Lounge is a place students can go for a number of reasons. It offers school assistance in multiple subjects and provides an emotionally safe space for those who need a place to talk. 
The Lion's Learning Lounge, located in the HUB, is a place for students to get help with their schoolwork, whether it's through explanations of topics they don't understand, or simply extra practice. On Mondays and Thursdays, there are English and math teachers offering assistance, and on Tuesdays and Wednesdays, there are science and history teachers present.
"I would encourage more students to take advantage of the Lions Learning Lounge," said Ms. Shumsky, an English teacher who volunteers for the Lion's Learning Lounge. 
Math teacher Ms. Mukavetz pointed out that although the flyers say you need to sign up, it's alright to just show up with questions.
"Especially during this time where students are coming back to a normal school year, I figured this was an opportunity to work with students who wanted to stay after and get some additional help," Mukavetz explained. "I also think the message of the Lion's Learning Lounge, and having outside resources coming in, is a really awesome message, so I wanted to give my support to it and support the students through this opportunity. I believe free tutoring should be available to all students, not just those who pay 50 bucks an hour."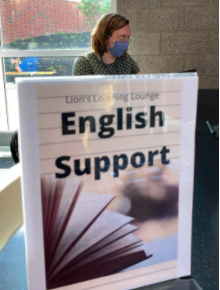 Not only does the Lion's Learning Lounge offer academic assistance, but they also offer social-emotional opportunities. On Mondays and Thursdays, A Journey to You, a State College business focused on providing counseling services to those who need it, can be found in the tent in the courtyard by E pod. On Thursdays, they offer Queer Talk, a place for students to safely explore their identity. They also offer Teen 2 Teen on Mondays, which allows for teens to find other people to talk to. On Tuesday, the Youth Service Bureau also provides Guys' Group and Young Women's Group in the library, and the Jana Marie Foundation is in the library on Wednesdays.
"We have these wonderful moments not just for educational growth, but also for social-emotional growth, which is something I think we've all sort of craved in the last year and a half," said Dr. Schwab, a teacher for the school's Academic Center for Enrichment, and someone who played an integral role in the creation of the Lion's Learning Lounge. 
Those who have been at the school for a while may remember 0-block, which was an opportunity for students to get teacher assistance from 7:30-8:30 am.
"What we realized, especially last year with the pandemic and everything, is that perhaps an after school option would be a little more suitable and a little more accessible to everyone because there [are] late busses," Dr. Schwab said.
So whether it's homework help, or needing a place to go to talk to people, the Lion's Learning Lounge is a welcoming option for all students. If that's not convincing enough, there will also be a therapy dog at some of the meetings. More information can be found on the Lion's Learning Lounge website.