Fall Festivities Galore This Month at Way Fruit Farm
If the season of autumn was a place, it would be Way Fruit Farm. Lounging with a piping hot apple cider on the farm store's rocking chair-adorned porch dotted with vibrant mums and pumpkins is the epitome of comfiness on a breezy fall day.
The local family-owned farm nestled in Port Matilda traces its origins back to a grove of apple trees planted by Robert A. Way in 1872. Today, run by the sixth generation of the Way family—Jason and Megan (Way) Coopey—Way Fruit Farm comes to life each fall as its weekend festivals are frequented by apple and pumpkin pickers, cider lovers, and, of course, apple cider donut addicts.
Way Fruit Farm has hosted fall festivals for over 30 years, expanding from two activity-filled weekends to six as the trend of agritourism grew. This year's festivities kicked off last month and continue through the remainder of October. In the midst of the bustling Way Fruit Farm salesroom on Friday, Oct. 8, I chatted with co-owner Megan Coopey about the events that the farm offers.
"A lot of what we do [are] just relaxing, fun, fall, family-oriented activities so that no matter your age, you can find something fun to do," Coopey said, adding that—with an abundance of apples, pumpkins, caramel dip, and more—"if you're looking for quintessential fall, a fruit farm is certainly the place to find it."
Coopey finds autumn in Pennsylvania to be a lovely season, but just as beautiful (in her eyes) are the joyful exchanges that she witnesses between farm visitors. Coopey is grateful that her family business allows her to share a taste of her experience growing up on the farm with the surrounding community.
"I was a teacher [before returning to farming], so to me, when I see all of the kids and the families walk in and they just are so excited—whether it be 'oh, mom, I was here for a school tour a couple of weeks ago,' or 'look, I got the perfect pumpkin,'—to see kids getting that experience and connecting with agriculture the way I was able to when I was little is the most rewarding part for me."
Similar to how she inherited Way Fruit Farm from her parents, Coopey finds that many of locals' Way-associated traditions span generations. 
"It's not uncommon for me to hear about people whose parents brought them here or whose grandparents brought them here," Coopey said. "Or, their great-grandparents used to make applesauce with these apples, and then their grandma did, and now their mom does."
On the topic of apples, pick-your-own apples is one hands-on activity available exclusively on early fall weekends at Way Fruit Farm. This opportunity came to a close this weekend with Jonagolds and Ida Reds available for picking. The season for hayrides to the pumpkin patch for pick-your-own pumpkins continued through Oct. 23.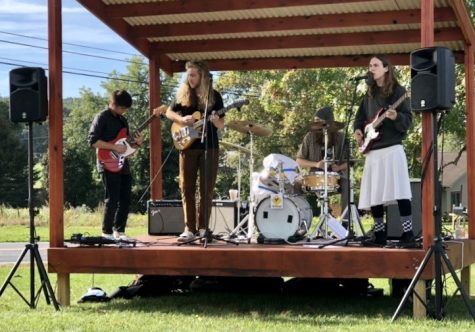 Rewind to Oct. 1 and 2: Way Fruit Farm's initial October event was a music festival. That weekend also marked the opening of the pumpkin patch. One of three groups performing on an outdoor stage on Saturday was No Road Ahead, a rock band made up of four State High seniors.
Singer and bass player Paul Freije, drummer Cyrus Holt, and guitarists Clayton Kleinman and Brendan Locke (also a trumpet player) played a total of 15 songs: five originals and ten covers. Their repertoire included Sitting Still (R.E.M.), Californication (Red Hot Chili Peppers), Into the Mystic (Van Morrison), Take it Easy (Eagles), and more. 
"I was really happy with everything," Freije reflected. He acknowledged that the band's months of preparation and hard work paid off, describing the concert as "a very good experience."
"A young kid came up and started dancing in front of the stage, and it was awesome," Locke said, recalling his favorite part of the day. 
Holt appreciated the "chill atmosphere" of the outdoor venue.
For Kleinman and Locke, performing songs that they composed themselves made for memorable moments.
"I really enjoyed playing [Uke Song], because that was the song that I wrote; it was my first time really [performing] my own song that I wrote—all the lyrics and progressions—so that was my favorite part," Kleinman said. Likewise, Locke enjoyed playing one of his own songs, Laurel, the product of a year's work.
Locke summed up the experience: "The weather was very nice, lots of people came, and we got free donuts." 
No Road Ahead's first gig at Way Fruit Farm was a success, according to the members, who hope to perform there again in the future.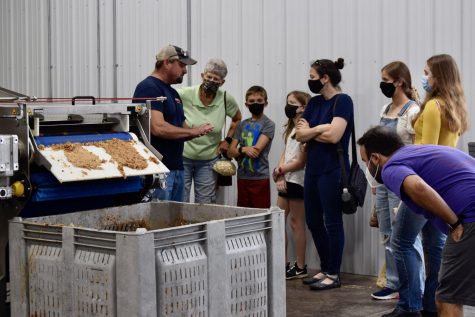 On the second weekend of the month, Oct. 8 and 9, Way Fruit Farm hosted an apple cider-making demonstration—highlighting their brand-new cider press that began production the week before—and educated visitors on the farm's history. Coopey explained that a display of antique tractors and farm equipment was intended to be a part of the event, but iffy weather caused this exhibit to be postponed until next fall.
The cider demo (led by Coopey's husband, Jason) is a fan favorite and tradition at Way.
"We always do an open house day at some point in the fall for our customers to sort of see behind the scenes, things that—when we're working day-to-day and we're super busy and running equipment and sorting apples and pressing cider—[are] very hard to let the general public into because [they're] very noisy and messy," Megan Coopey said. "This gives us a chance to do that at least once a year for people to see how we're processing food and how that works."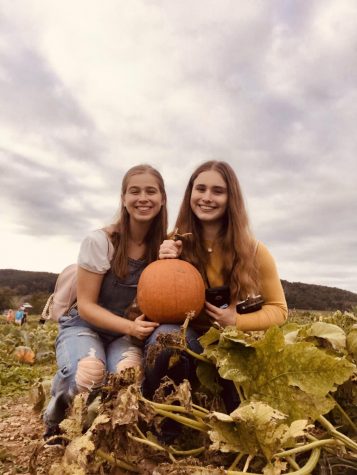 State High junior Ruthann Petrosky spent an afternoon at Way Fruit Farm with her sister Hope during the school district's Oct. 8 inservice day.
Petrosky and her sister enjoyed a hayride to the pumpkin patch, observed a cider demonstration, and purchased pumpkin donuts. At the pumpkin patch, the two took pictures, "because that's usually what we do when we go to a place that has really good scenery," Petrosky said.
This event was Petrosky's first trip to Way Fruit Farm, though her sister frequently visits the farm with her friend's family and is fond of the Way bakery's pumpkin donuts. 
"I really love the setup of the shop; it's super cozy and super fall-like," Petrosky said. The donuts were "really delicious," living up to her sister's praise.
During the weekend of Oct. 15 and 16, Way Fruit Farm held its annual harvest craft show. 
One of the two original fall festivals, the craft show is a time-honored fall tradition. The event supports local artisans, providing them with a space to peddle their wares. The craft show takes place outdoors, and the air is filled with music and the scent of kettle corn wafting from the food vendors. The pumpkin patch is open, pick-your-own apple season is wrapping up, and food trucks ensure that festival attendees can stay awhile—stopping at home for lunch is unnecessary.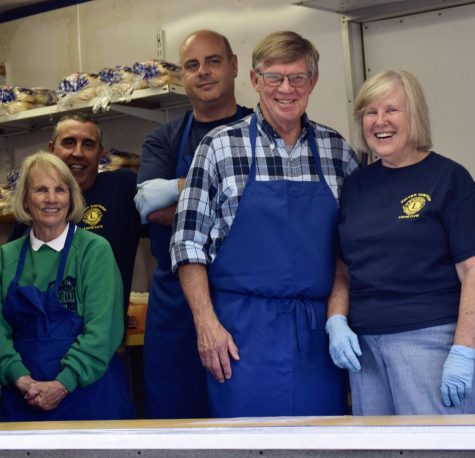 Food vendors vary from week to week. This year, the list included Authentic Chimney Twist, the Patton Township Lions Club, Scott's Roasting, Marco's Pizza, and kettle corn.
On the third and fourth festival weekends of the month, Way Fruit Farm hosted a local chainsaw carver who carves both wood and—using specialty equipment—pumpkins.
Way Fruit Farm's final festival weekend of 2021 took place on Oct. 22 and 23. 
The farm welcomed professional pumpkin carver and caricature artist Eric Jones for pumpkin carving demonstrations. Jones was a season ten finalist on Food Network's Halloween Wars.
"We're super excited," Coopey said ahead of the final fall festival. "It will be one of the last hurrahs of fall; the pumpkin patch will be open for one of the last weekends, (we hope to have Ida Red apples available for picking), and it will just be kind of that last weekend of fall before we get to Halloween."
Way Fruit Farm also offered their yearly caramel apple bar at this event. Visitors chose their own toppings, and Way employees assembled caramel apples to be enjoyed at the farm or to-go.
While Way Fruit Farm has held a pumpkin festival in the past, they have never hosted a professional pumpkin carver like Jones before—thus, the 2021 fall festival season at Way concluded with a twist.
Customers come to Way Fruit Farm seeking to get into the fall spirit. They often leave with a hand-picked pumpkin in one hand and a couple of days' worth of baked goods in the other. 
In addition to allowing people of all ages to enjoy a relaxing autumn day surrounded by nature and the warm hues of pumpkins and changing leaves, though, Way's fall events give back to the community through charity. Coopey and her husband started the nonprofit organization A Way to Help within the past year, aiming to assist Central Pennsylvania residents.
"We take some of our funds from special events [such as busy fall weekends that bring in a profit] and put them into [A Way to Help]," Coopey explained. "We are trying to help some local people, especially with the event of COVID happening. […] We do love this general Centre County community and really want to find a way to better support [it]."
A Way to Help is a new initiative, but it was born out of a tradition of giving back; Coopey's parents' charitable efforts consisted of donating time and funds from fall event proceeds to an orphanage in the Dominican Republic. Way Fruit Farm's service-oriented nature is just as deeply rooted in its history as the farm's vast orchards of apple trees.
As the weather becomes more blustery and sunset creeps earlier into the evening, family and community-focused business Way Fruit Farm provides the opportunity to savor the remainder of the season's beautiful, golden days. After all, nothing says fall in State College like flannel, football, and fruit farm fun.