State High Swim and Dive Team Dives Into Their New Season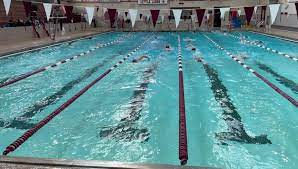 Members of State High's Swim and Dive Team kicked off their season on Nov. 19, which marked the beginning of their practices for this year's season. This year's team is one of the largest in State High history, but even with all of these new people on the team, practices continue as usual, happening nearly every weekday before and after school, guaranteeing lots of time both in the pool and time for dryland workouts. 
Swimming is a popular sport for all ages, and as such, many of State High's swim team members have been swimming for years. 
"I've been swimming for three years year-round, but it's been four-five years on summer league teams," said Quinn Castro, a freshman swimmer on the team. 
Through their practices, the swimmers and divers prepare for upcoming meets, where they compete against other districts, look to improve their times, and work on themselves as athletes.
But just as important as doing well in meets is fostering strong relationships on the team. With ever-changing rosters on teams, swimmers can expect to make new friends every season.
Freshman Isabelle McSweeney, another new member to the team, shared her feelings on the upcoming meets. 
"I'm excited for the meets, but also nervous to see how everything is going to work," McSweeney said. 
With the recently started practices, new members are having to adjust to their new, and rigorous, schedule. 
"I feel like there are a lot of hours, but I don't mind since I get to be with people that I love and have lots of fun with the team," Castro said. 
Practices take up large chunks of the week, and while the season's just getting started, both McSweeney and Castro agree that swimming for State High has already impacted their high school experience. 
"Swimming has given me something to push myself in and has allowed me to build so many bonds with people. It takes up a lot of my time and though I might complain about it, I truly love the sport and it has affected me so much," Castro said.
McSweeney shared a similar sentiment.
"Swimming has definitely been a positive influence on my life," McSweeney added. "I have gotten to meet a lot of people, and between the State High team and NLAC—my club team—I have gotten much better and dropped a lot of time. It has been a lot to manage with everything else that I do, but it is definitely worth it."