Three '80s and '90s Rom Coms to Watch This Valentine's Day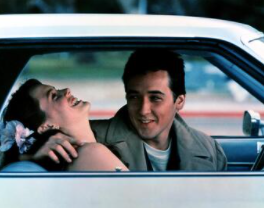 On Valentine's Day, all most people want to do is curl up on the couch and watch a rom-com, but it can be hard to pick the perfect one. If you've found yourself looking for a nostalgic movie to watch this Valentine's Day, here are three rom coms from the '80s and '90s that might just be what you're looking for.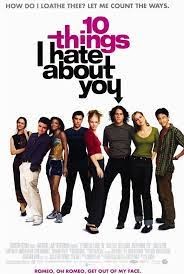 10 Things I Hate About You
10 Things I Hate About You is from the late '90s and stars Julia Stiles as Kat Stratford, who is unlike most teen protagonists. Kat is perceived by her peers as scary and a freak. She's rebellious and opinionated, but behind her in-your-face personality, Kat is introverted and antisocial. Her "perfect" little sister Bianca longs to date, but their dad rules that she can't date unless Kat does. Two boys fighting for Bianca's heart see if anyone would dare to date Kat Stratford—for a price. 10 Things I Hate About You is a charming movie, and is actually loosely based on the Shakespeare play The Taming of The Shrew. The play is even referenced in some of the character names; Kat's love interest is named Patrick Verona, a reference to Verona, Italy, where The Taming of The Shrew takes place.
"My overall impression of [10 Things I Hate About You] is how lighthearted it is," freshman Caroline Concepcion commented. "The whole movie was just kind of carefree."
The soundtrack is a fun, upbeat, mix of rock and pop, and there's even a blooper reel at the end. If you're looking for a movie that will make you feel good, 10 Things I Hate About You is sure to leave you with a smile on your face.
Some Kind of Wonderful
Some Kind of Wonderful is a romantic comedy from the late '80s starring Eric Stoltz as Keith Nelson, a handsome, artsy, and overall lovable high school outcast. When he lands a date with popular girl Amanda Jones (with the help of his cool tomboy best friend Watts), he also angers Amanda's snobby and popular ex-boyfriend Hardy Jenns, getting Keith in some major trouble. To make matters more complicated, Watts discovers her true feelings for Keith and tries to stop his pursuits of Amanda. Some Kind of Wonderful was written and produced by John Hughes whose other works include Ferris Bueller's Day Off, The Breakfast Club, and Pretty in Pink. Some Kind of Wonderful is about life, insecurity, rejection, and what love is supposed to be all about. It doesn't ask the question "Will the hero get the girl?" but instead, "Should he get the girl?" which is refreshingly different. This movie is beautifully heartwarming and just the perfect amount of cliche. As its name would suggest, this movie really is "some kind of wonderful."
Say Anything
Say Anything is a charming story of first love from the late '80s. Just after graduation, optimist Lloyd Dobler (with a good heart but limited ambition), tries to steal the heart of the beautiful—and unattainable—high school valedictorian Diane. While Diane shares his feelings, the couple is then tasked with dealing with outside pressures on their relationship, including Diane's overprotective and unapproving father.  Most popularly known for the scene where he holds a boombox outside of Diane's window to get her attention, Say Anything is a classic. Lloyd is impossible not to love, and their romance is the stuff of dreams. The movie also focuses on Diane's relationship with her father, and what a father-daughter relationship should be like. Say Anything is a source of nostalgia for many, and can give State High students today a glimpse into the '80s. It's a must-watch movie for this Valentine's day.