A Q&A With Rockwell
Rockwell was the newest addition to SCASD's security team in 2021. But he isn't only a security guard— he's an artist and a mentor. Rockwell tries to not only make sure that students are safe and doing what they're supposed to be doing, but he also takes the time to understand us and talk to us. As students, we don't only want to be taught—we want to build bonds with the people we are around every day.
Q: When did you start writing and making music?
Rockwell: I fell in love with music at the age of 16. I started writing my own lyrics and all that, but I never took it seriously. Fast forward to 2019 — released a single and a lot of people were telling me to get back into music and pursue it. My fire and passion for music was rekindled and I've been actively pursuing it ever since.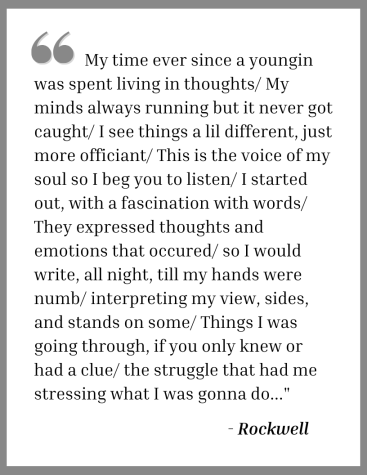 Q: What song has the most sentimental meaning to you?
Rockwell: The song that has the most sentimental meaning for me is "All My Life" by K-C & JoJo, because it is a song that is special between me and my mother.
Q: Why did you get into security and what made you take this position?
Rockwell: I decided to take this job because I thought it would be a good way to do some outreach in the community by dealing with the youth and being more of a mentor than a disciplinary hand. I also chose the field of security because I am a naturally protective person and I am naturally inclined to help people.