Girls' Rugby: Low Numbers, High Morale
State High has many different sports teams, and some are considered club teams, one being girls rugby. The girls' rugby team is struggling with low numbers this year, and with two-hour practices three days a week and weekly games, it has been harder for them to recruit new players. They had to forfeit one of their official games because they didn't have enough players, which has been a consistent problem this season, even with their accepting attitude toward new members. 
"You need fifteen to field a team, and we are just barely making the mark—we have fifteen to play, like sometimes," said senior and rugby team captain Cameryn Hockenberry.
The team also consists mostly of seniors this year, which has created concern about what will happen to the team next year. However, leadership continues to work to recruit new players.
"We're really open to people joining, no matter what time of the year, how old you are, whatever, just coming out and playing," said Hockenberry.
Girls rugby is a no-cut sport, and more capable players will teach new recruits the game even if they have no prior experience.
"I think that rugby is a good outlet. We get a lot of girls from softball or like lacrosse who didn't make it and they love rugby," said Hockenberry.
Being on the team also opens up doors for rugby college scholarship opportunities, because not many schools have a rugby program. However, because rugby is a club sport, they can take students from other schools.
"It creates a more accessible sport. A lot of times in sports, especially at State High, you're competing with people who have been playing their whole life so it's really intimidating and it's not easy to start. Rugby, no one has really played it, so you can start fresh and learn with people which is really helpful. It's a very different team dynamic because it's much more working together to create a team," said senior Laura House, pack captain.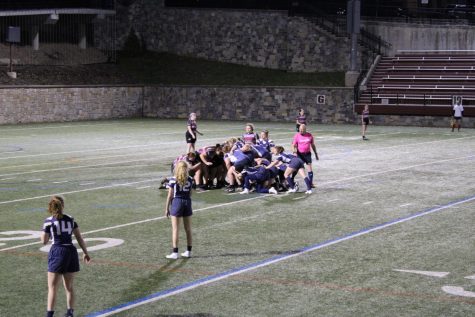 Some dedicated players run an executive board for girls' rugby. This includes a president, vice president, secretary, etc. as well as an underclassmen representative. They handle recruiting, organizing scheduling details, and social events for the team.
Aside from the executive board, there are also team captains who are nominated and then voted on. They help to lead practices and create game lineups and need to have more experience.
Cameryn Hockenberry is a senior and team captain. Her friend got her interested in rugby in 8th grade and she's been playing for five years. During games, the referee will only talk to the captain, which is a big part of her responsibility.
"I'm learning as I'm a captain, by teaching other people it helps me learn what it is to be a leader," said senior rugy player Ava Reed, a fellow co-captain.
Senior Laura House is pack captain and secretary of the executive board. Her neighbor introduced her to rugby and she has been playing for 4 years. She is responsible for the forwards, who are the eight players positioned furthest forward and are the first to come up against the opposition.
Rugby games can have a different atmosphere depending on the team facing off against this rugby team. Some teams they may not get along with at first, and some are girls they've played against before.
"Most of the time, by the end of the game, we're all pretty mutual friends or at least have an agreement that we can all get along with each other. A lot of times after games we'll have socials, so the home team will provide a meal for everybody and we'll all eat together—that really keeps the morale high," said Hockenberry.
Many players have good memories of their time on the rugby team.
"This first game, my cousin played on the team with me, and I got an assist from her. She gave me the ball and I dove into the try zone. It was the coolest thing I've ever done. I stood up and I was so excited," Hockenberry shared.
House recounted a time she had fun with their friends on the team.
"Freshman year, we had a tournament and we had to leave really early because it was in Maryland. It was me, and I was driving down with my neighbor and our other friend Claire and we were at Sheetz at 4 in the morning. It was just us, and we got so much candy," House said. 
Reed remembered a time when rugby brought players together.
"We played in this tournament called Ruggerfest. That tournament, we won every game, and we also made really good memories hanging out at the hotel and bonding, we all grew closer during that tournament," Reed said.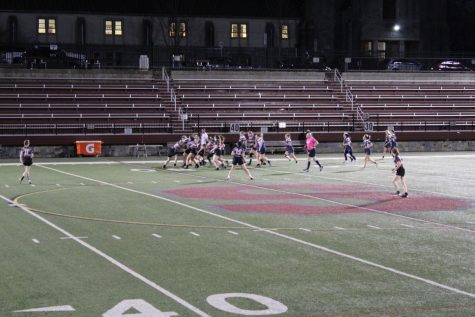 The team holds memories from past seasons close to them, and this season has given them the opportunity to not only form new memories, but see a significant improvement in their plays. 
"On-field, you can see our attacking structure much more resembles an attacking structure. In rugby, the field is a lot bigger than you imagine, so you can get very scrunched up around the ball. But it is really important in rugby to actually extend the width of the field, so being able to look and see us actually extending out is one of the major improvements," said House.
The girls rugby team hopes to invest that improvement in future endeavors.
Coming up for rugby, the team has the Ruggerfest tournament, in which they'll be joining forces with the team from Hollidaysburg.