No Steps Forward, Two Steps Back?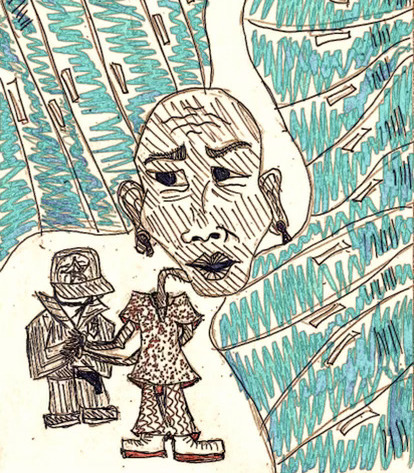 Over and over SCASD has failed to be present for their students of color. Whether it has to do with disproportionalities, misrepresentation, or harmful practices, it all comes down to perpetual and structural racism within the district. 
Beyond the very existence of systemic racism being so present in our schools, the district is conscious of it and has been so for a while now. As a result, the Race and Marginalized Populations (RAMP) Workshop was formed with the intention of being a space for parents and community members of color to have a voice and say in the districts' happenings. 
In these workshops, parents of marginalized students noted repetitive treatment towards their kids; Black and Hispanic students were consistently receiving punitive discipline as well as disproportionately high rates of assignment to an Individualized Education Program (IEP). Meanwhile, it has been difficult and improbable for Asian students in need of IEPs to gain access to them. When in need of assistance, Asian students are overlooked. 
These were simply the assessments that district parents had come to while speaking amongst each other at the RAMP workshops. 
In the spring of 2022, an equity audit was conducted where the Center for Education and Civil Rights at Penn State College for Education completed a report. Said report, written by Katharine Dulaney and Erica Frankenberg, enforced each and every one of the parents' suspicions through empirical data. 
"Roughly 1/3 of the district's Black students and 1/5 of the district's Hispanic students are enrolled in special education classes… We should expect to see proportional percentages of students who are identified for special education services across all races/ethnicities," CECR reported, and continued to note that "Asian students are disproportionately less likely to receive special education services."
Additionally, it was written that "Black SCASD students face disproportionately more discipline than students of other races/ethnicities … High rates of suspension means that Black students are often missing class time due to discipline."
Not only does the district in itself fall short in demonstrating equal support for their students of color over their white students, but also the placement and maintenance of school resource officers (SROs) in the district has furthered the negative impact of punitive discipline on students of color. Beyond punishment from their schools, students of color now face criminalization, unnecessarily exposing minors to the criminal justice system. SROs lead to high crime reportage but, again, this only leads to criminalization. If it is known that the carceral system does not favor people of color at trial, why is SCASD helping to put us there?
This does not imply unprecedented removal of SROs, but rather authentic demonstration and empirical proof that they are beneficial to have in our schools. There is no such empirical proof. 
In an article for ACLU Pennsylvania, Aaron Kupchik notes that "the existing evidence for police increasing safety is mixed, at best, with strong evidence of unintended harmful consequences that come with policing programs." So when the numbers are stacked up against their effectiveness, why do they remain in our schools? 
This subject has prompted the parents in RAMP to talk about the removal of SROs or at least a redistribution of the resources put into them. 
SCASD renewed its SROs' contracts near the end of August. When this took place, the SROs were the ones to speak to the potency of their jobs. The influence of SROs is very subjective on a school-to-school basis and no objective numbers can be written up to demonstrate a benefit from their presence. 
Melina Porro, a member of RAMP, has two kids enrolled in the district and has been advocating for structural change within the district for a while. A frustration with the current setup comes from not only her own experiences and her kids' experiences with SCASD, but also from a comparative standpoint considering all other educational spaces she has been involved with. 
"I have had the opportunity to be a parent within the school system of five different districts in three different countries, allowing me to contrast and compare its differences and their impact," Porro said. "My last experience was with a new university that was integrated with an Indigenous community in Ecuador. The school experience, of that school, was a very circular experience, where there was no verticality, or there was very little of it," she continued. 
At this moment, SCASD has no comprehension of what a circular environment is. As a district, we are structured like a hierarchy. With the current presence of SROs in our school hallways, we won't ever achieve spaces where everyone does "different things but participates equally to the institution," like in Porro's Ecuadorian experience. 
"The idea that SCASD has a police officer walking through the school, what role does it fulfill?" Porro asked. "Do you want kids who fear authority? … Or are we trying to make citizens capable of making decisions and negotiation and etc.? My point is that, are we sure that the money that we are putting into SROs shouldn't be divided; half for SROs and half into restorative justice? Or half into counseling? Or [half into] mental health? Or facilitation?"
We are missing self reflection abilities in our district leadership and in our decision makers. SCASD punishes students for missing class by taking them out of class. The issue at hand shouldn't be narrowed down to "my student isn't in class," it should be looked at as "why isn't my student in class."
"Why is the central idea that punitive discipline is the exit to all the problems the one which the district emphasizes so much? Where is the role of restorative justice in our district and schools?" Porro questioned. 
The relief marginalized students, specifically those of color, were given was Dr. Seria Chatters. Dr. Chatters was hired as Director of Equity and Inclusivity (DEI) for the district four years back. At the very beginning of September, she announced her resignation. 
Porro sees a benefit in having a Director of Equity on the ground where they see first-hand the experiences of marginalized students with the school and are able to react to it in real time. To Porro, it is a considerable setback for SCASD that Dr. Chatters is leaving. "Right now, there is direct access to this officer; taking them out of the high school signifies to me that their work with the students and the district will be less efficient," she explained.
This change is not the only one that determines the support net for students of color in the district; the selection of the new SCASD Superintendent does as well. The RAMP members hope to collaborate with the district to find a person fitting a profile that satisfies current needs (someone willing to invest in restorative justice and give much-needed attention to students of color's experiences). In the meantime, parents and community members are given a space to voice their opinion in town halls hosted by the search consultant, this all being in preparation for the interviewing process for the new superintendent.
But even if we were to overlook what parents have to say, it is clear that SCASD does not host an equitable environment for its students. Our district is in need of drastic change but this said change will never occur with the ongoing lack of conscience that SCASD possesses.