Penn State vs Northwestern Preview
Penn State vs Northwestern Preview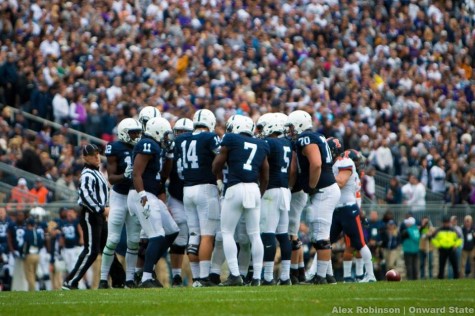 Photo via Onward State
Penn State is back on the road this week coming of a convincing 39-0 victory against Illinois. Sitting at 7-2 for the year, the Nittany Lions have been playing through inconsistent play, but have put that away and been been showing huge improvements. Next up is a game against the Northwestern Wildcats.
These two teams met last year inside Beaver Stadium, with Northwestern pulling off the upset against an undefeated Penn State squad. This time, Penn State comes off playing its best football it has all year, which could be considered James Franklin's best game as head coach. The Lions look to get revenge from last year.
Northwestern has looked as inconsistent as the Lions, starting 5-0 with an upset win over Stanford (which is ranked #11 in the College Football Playoff Poll), then getting bashed by Iowa and shutout by Michigan, before getting a win in Nebraska. Coming off a bye week, the Wildcats are sure to be the fresher team with Penn State not having their break yet.
Stats to look at
Northwestern is averaging 186.1 rushing yards per game to rank third in the conference, while averaging a league-low 146.1 passing yards per game. Running back Justin Jackson ranks fifth in the Big Ten with 91.4 rushing yards per game, while quarterback Clayton Thorson is averaging 37.1 yards on the ground and has a team-best five rushing touchdowns
Prediction
With both teams having to prove something in this game, it will be a exciting game between the two. I think it will have to be the offenses stepping up in this game, and whoever can succeed, I think will come through with the victory.