7 Must-Have Fall Essentials, According to State High Students
Fall; book sales, pumpkin spice, and cinnamon-scented candles. Leaves falling, Thanksgiving, the color orange… and black cargos?
Summer has ended along with its short shorts and tank tops. Now, it's all about fall fashion. From basic white tees to colors-of-rainbow jewelry, these State High students are here to tell you what's up and what you need. 
1) White-washed Mom Jeans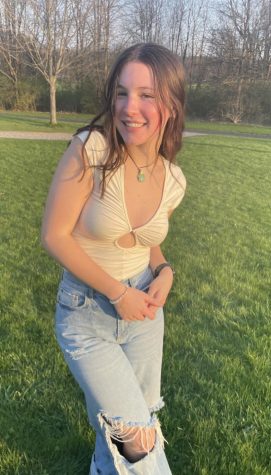 Sometimes starting out with a subtle flair is all you need. Before all else, find yourself a good pair of jeans. The basis of all outfits is pants; basic mom jeans are the best way to kick off your 'hot girl summer" or, in this case, fall. The easiest way to style mom jeans is to just go with the principal white tank-blue jean formula. If you wanna go further, add small pieces of bold jewelry or a loose flannel to bring a bit of layering into the picture. 
Whether it is a plain white shirt, oversized hoodie, or black heels, mom jeans will fit with just about anything as the white-washed denim gives an overall clean look to your style. So whatever you do, don't be afraid to indulge yourself in some of the fundamentals of a good outfit, like mom jeans.
2) Lots of Preppy Style Clothing
With the change in seasons comes a change in trends and the Preppy and Academia aesthetics are all the rage. White shirtings, loafers, vests, and just about anything that Rory Gilmore would wear are everywhere. "Right now, my Tik-Tok is all over Rory Gilmore," sophomore Charis Alturas said.
3) Baggy and Baggier Hoodies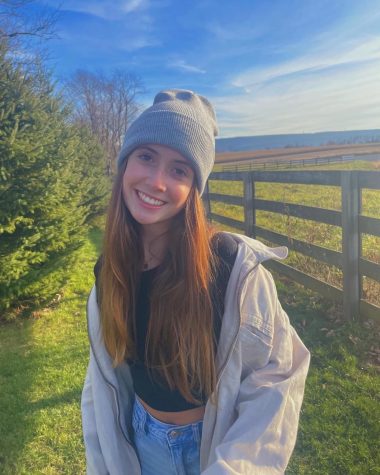 Hoodies: zip-up, pullover, fitted, sleeveless, cropped, and too many more versions to count are seen in our halls. Undoubtedly, the oversized hoodie is the most frequently seen at State High. 
With the constant low temperatures inside the school walls, no wonder almost all interviewed students recommended hoodies as their must-haves. "It keeps me warm," said Deja Ortiz, a sophomore.
"[Hoodies] are comfortable and I feel like they work with any season ever," Alturas said.
Sometimes going with the flow is all you really need. Loungewear, sportswear, and street fashion of 2020 are not leaving anytime soon. Get yourself in some good sweatpants, crewnecks, and – of course – baggy hoodies.
4) Statement Jewelry
For those not ready for statement clothing, maybe statement jewelry is all you need. Namely, colored glass rings can detail your outfit and add small sparks of color. Don't be afraid to go a little crazy with stacking and pairing your rings. 
Cool tones give off a mature feel while warm tones such as pinks and reds radiate a childish vibe. If you put both warm and cool colors together, then you are ready to take on fall in style Neon greens and hot pinks were made for each other. As for bracelets and necklaces, two words–beaded and colorful. Seriously, colorful jewelry should be a schoolwide uniform.
5) Platform Shoes
Comfortable yet so effortlessly chic, platforms elevate your style along with your height. "I can't live without platform shoes," exclaimed Darina Issabek, a freshman. 
Black platform Converse works with just about any fit. Think low-rise baggy jeans, tank tops, and platforms, or a girlish dress balanced with your favorite Converse.
Platforms don't just mean sneakers, either. Colorful block heels and add in the tall aspect create the perfect look. Silky, patterned tights were made to be worn with platform heels as senior Lily Myers-Finnegan would surely know.  
So for all the shorties out there, platform shoes are perfect for you, and if you're six foot… still wear platforms because "tall" is never tall enough. 
6) Cargo Pants
Cargos are just like any other pair of pants but dressed up with pockets. Cargos are not only comfortable but an absolute essential for those with a need for deeper pockets in their pants.    
Make sure to look for popular solid colors like greens, blacks, and browns. Put on a cropped white tee, sunglasses, and clip your hair back over matcha-green cargos for that "clean girl" look. You could also pair black cargo pants with a baggy graphic tee, leave your hair loose, then add a fun bucket hat for a streetwear look.
7) Crop Tops 
Wear all of them – t-shirts, tanks, tees, everything – just as long as it's cropped. With their neutral designs, cropped tops are not only stylish but also comfortable. They are a bit different from their normal-sized counterparts as crop tops give the body a flattering shape with a bold look in a modest way. 
Furthermore, they are versatile and work with just about anything from low-rise baggy jeans to long-hemmed skirts that dust the floors while fluttering gracefully.  
"Just be you and do what you love. Be inspired but also make it your own," Maddie Whitehurst, a junior, remarked. In the end, whether you feel most comfortable in pleated skirts and black Oxfords, or pajama pants and vintage crewnecks, it is up to you to know what you love.