State High Swimming and Diving Honors Senior in Home Closer
Right from the opening "quiet on deck", the last home swim meet was an unyielding roar paying homage to this year's seniors. As indicated by several swimmers at the meet, this was going to be no ordinary night.
On Tuesday the 24, State High Swimming and Diving had their home closer and senior night against powerhouse team Cumberland Valley. The meet began with the 200 medley relay, where the State College A team, which included seniors Jade Castro and Ally Koehle, junior Maddison Watschke, and freshman Molly Workman, pulled off an electric performance, besting the second-place team by over seven seconds.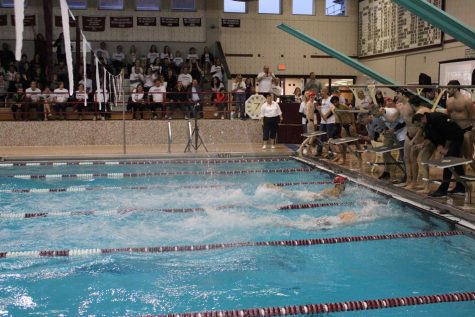 However, the Eagles of Cumberland Valley were not deterred winning the boys medley relay by less than half a second in a nail-biting race. This race set the tone for the meet, as the final results echoed this theme in State High's girls winning 122 to 64 and the boys losing just 87 to 98. 
A close meet between rivals wasn't all that made this special. It was just as importantly a farewell for the team's seniors. This year's seniors are Jade Castro, Kate Doucette, Stanley Engroff, Shawn Erdley, Lydia Geiger, Mekhi Graham, Maggie Hayes, Samantha Hesser, Maggie Huggins, Ally Koehle, Lauren Prenatt, Tassia St. Pierre, Meredith Suhlman, and Tyler Uhlig. 
Reflecting on this season, senior Ally Koehle described her thoughts, "[It's] definitely the closest and strongest we've ever been," Koehle said. This checks out as the girls 200 Medley A Relay, which Koehle is a part of, has been undefeated thus far in the season.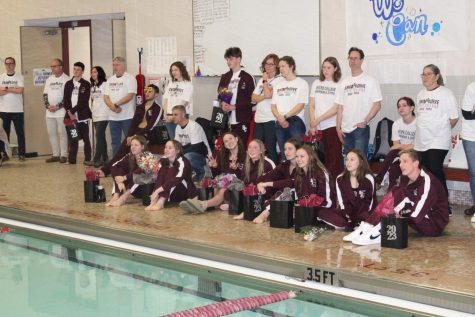 The seniors had a good night with first place finishes for Jade Castro in the 100 Backstroke, Shawn Erdely in the 200 IM and the 100 Breaststroke, Ally Koehle in the 100 Butterfly, and Tassia St. Pierre in the One Meter Diving. In addition, the seniors had three second place finishes: Kate Doucette in the 200 Freestyle, Samantha Hesser in the One Meter Diving, and Tyler Uhlig in the 100 Freestyle and the 100 Backstroke. The night also had many other excellent finishes for the rest of the team.
Another senior, Tyler Uhlig added, "[It was a] one hundred percent good outcome and being a senior, it's bittersweet." This echoes the sentiment of all the seniors who feel a tight bond with their teammates this year more than any other. 
The bond felt by all swimmers was only emphasized by what Koehle said what the hardest part about being on the team was. Despite all the difficult workouts, early mornings, and grueling practices, "It's having to leave."
Both Koehle and Uhlig will continue swimming at the collegiate level: Koehle at West Chester and Uhlig at IUP. Other swimming commits are Jade Castro at Auburn and Shawn Erdley at Florida Southern.
After the meet, State College rose to be the fourth-ranked high school swim team in the state.