Ms. Kling's Teaching Philosophy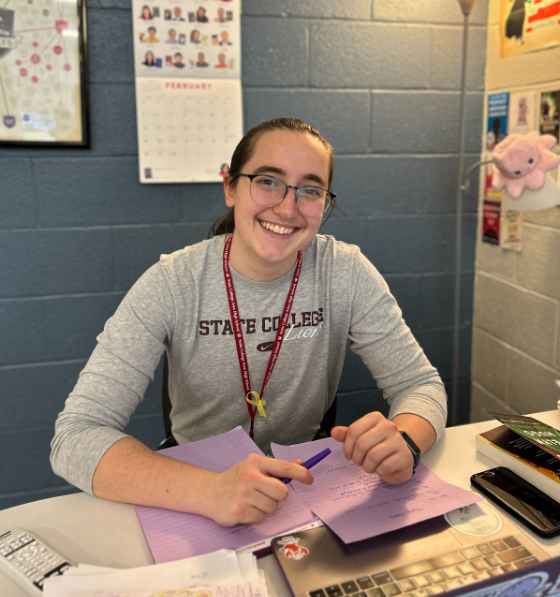 Ms. Andrea Kling is State High's 9th-grade English teacher. State College raised and graduated from State High in 2017. At Shippensburg University – a small university 2 hours south of State College – she studied English and Education then proceeded to graduate with a Bachelor of Arts in English Secondary Education. In her free time, Ms. Kling enjoys reading and several forms of exercise. 
"I always really enjoyed reading, I always really enjoyed writing, but I think the teacher aspect of it came in probably my senior year of high school. I had a super amazing teacher for my AP literature class and I was like, 'oh my goodness, wait, I can be this for other people'," Kling said.
Kling enjoys forming relationships with students. She loves that she can be a part of the growth of so many unique people. Regardless of how challenging it can be at times, Kling's favorite part about teaching is working with the students. 
Freshman Parker Newman described Kling's teaching style, "I think that it's better for the students. I think she has the students in mind when she makes the plans and she knows that there's a lot of stuff to do when you're a student."
Newman expressed how nice it is to have a teacher who looks out for students' best interest and realizes that they have much to do outside of her class. She went on to applaud Kling for being an overall supportive teacher by always checking in with students. 
"[My teaching philosophy is] student-focused, student-centered, so what's best for them. I'm continually thinking 'alright is this thing I'm doing because I need to have a grade in the grade book or is it actually furthering their learning and knowledge?'" For Kling, it's all about fostering student learning and development. To engage students, Kling tries to give them tasks that are enjoyable. She likes to come up with creative and relatable content. Instead of strictly lecturing Kling makes an effort to get students to learn by being more hands-on. 
"[The classroom environment I strive for is] one where students feel safe and comfortable, and like they are free to speak their mind and engage in genuine conversations about good things, and also stick up, and speak out when they see injustice being done," Kling added.
Kling's teaching philosophy prioritizes her students' needs by being there for them both educationally and personally. "I teach in the hopes that I can be the person for somebody that they don't have in their lives," Kling said. 
In just a couple of years of teaching at State High, Kling has already made an impact on students. Whether she realizes it or not, she has created a classroom environment for students to relax and take a breath during their hectic, academic days.