Boys' Basketball Wins District 6 Championship
In a highly anticipated third matchup between State High and Altoona, State High came out with a 69-49 win to secure the district 6 title. 
After a shaky start, including an and-one from Altoona's senior center Evan Alwine and four Altoona offensive rebounds, Braeden Shrewsberry quieted the crowd of predominately Altoona supporters with a corner three-pointer. 
Evan Alwine brought back the noise in a hurry. Another Alwine and-one and a Shrewsberry turnover gave Altoona a 7-3 lead with 5:47 left in the first quarter. The back-and-forth nature would continue, including a deepthree-pointerr from State High senior Lake Black, and a turnover from senior forward Finn Furmanek on a pass intended for senior guard Jahmir Urie. 
The first quarter ended on a long three-point attempt from State High's Ryan Perks that fell short. Alwine had a strong first quarter, holding State College's starting center Kevin McKenna to zero points and having five of his own.
The second quarter was a different story. State High came out rolling with a 7-2 run including a Shrewsberry three-pointer to make the score 22-14. Altoona called a timeout to stop the bleeding, but it didn't do much because McKenna quickly got his first points of the game with a layup off a Lake Black steal. 
Later on in the second quarter, Jalen Triplin for Altoona got the crowd back into the game with a three-pointer even further than Lake Black's in the first quarter. Sticking with deep shots, at the first-half buzzer Altoona's senior guard Ashton Neely banked in a half court shot to bring the score to 30-25. The second quarter had fans in attendance checking road conditions for a possible early exit, but when they looked up, Altoona was right back in it only down five points. 
Coming out of halftime, Shrewsberry hit a three-pointer of his own to grow the lead back to eight. Two minutes and a few controversial calls later, Ryan Perks was hit in the face while grabbing a rebound with no call made. Head coach Brian Scholly was very upset, especially after Shrewsberry was called for a highly questionable offensive foul just one play later. 
After an uncharacteristic airball from junior Isaac Dye, State College proceeded to score on six straight possessions including four three-pointers from Dye to push the lead to 21 points. Neither Scholly nor Dye were surprised by this onslaught after the slow start. Scholly said, "All of our guys know how well Isaac can shoot. When he gets one our guys look to him, because it's kind of like an avalanche with him." Dye also made the point that with the Altoona defense focused on Braeden Shrewsberry, he had more open looks. 
The only way that the scoring streak was stopped was by an off-the-ball illegal screen call on Shrewsberry which thoroughly confused the State High bench. Altoona had a bit of life injected into them by Jimere Hardison with a tip in to trim down the lead, but they were just about done. At the third-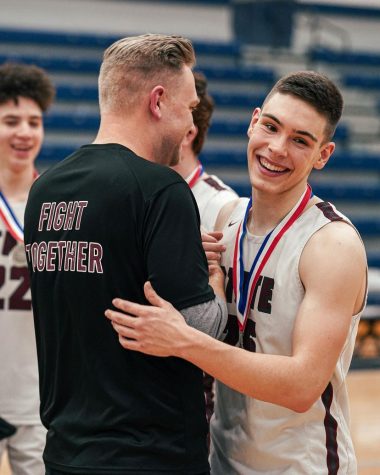 quarter buzzer, Altoona's Triplin made the second half court shot of the night, although this was taken too late to be counted. 
State College held Altoona's senior center Zhaad White without a point, but he wasn't exactly their focus player. State High's junior Nate Price said, "[Ashton Neely] number three, or [Jalen Triplin] number 24, were their star players that we really focused on locking up." Neely was held to eight points before his fourth-quarter explosion, but Triplin racked up 15 which was second on Altoona.
Midway through the fourth quarter, State College began to empty the bench with Dylan Davis, Aiden Angus, and others entering the game. Altoona's Ashton Neely showed that he didn't want his high school career to end with 14 fourth-quarter points, but it wasn't enough and State College ended up with a 69-49 win. 
Dye led all scorers with 24 points, and Altoona's Neely was right behind him with 22. Shrewsberry added 14 points and Triplin had 15 for Altoona. With this win, State College captured the District 6 Title and clinched a state tournament berth. They are back in action on Friday, March 3 in a sub-regional game on the road vs. Erie.