Fitness Club Hosts Second Annual Dri-Tri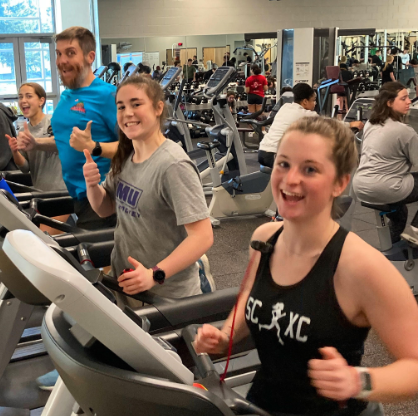 The directions are quite simple: Run for a mile, bike for three miles, and a 2000-meter row on the rowing machine. To win? Try to get the fastest time of all of these combined. These are the rules made for the Fitness Club's 2nd annual dry triathlon, commonly referred to as the 'Dri-Tri'. The Dri-Tri was held for students and staff to compete in during any block during the school day, starting February 20 through the 28, with most completing the challenge in their gym class or study halls. 
One of the 43 student participants was junior Mackenzie Boyle. Boyle's class, IB Exercise Health Science, collectively participated in the Dri-Tri. "We participated because my teacher wanted to test our athletic ability. We're tracking our nutrition plans right now, so he wants to see how our diets affect our athletic performance," Boyle stated.
However, the Dri-Tri becoming a school project did not stop Boyle's nerves approaching towards the date of the competition. 
"I was feeling resentment. Because I do not like rowing 2ks [2000 meters], I don't like biking even more, and then running? It was all my favorite things wrapped into one!" Boyle said sarcastically. 
Boyle is a part of the school's club rowing team, so she knows a thing or two about how rowing 2000 meters can feel, and how to prepare. This is contradictory to teacher Doug Schunk, who also participated in the Dri-Tri. Schunk has a lot of experience when it comes to doing marathons and other running-related races, and shared that he also partakes in the spin classes offered at the fitness center. However, his confidence was hindered when it came to the rowing portion.  
"I knew I could obviously run, I figured I would do okay on the bike, but I've never done a rowing machine before, so I was kind of, like, a little nervous about that, since I've never done it before. But then I was like 'Well how hard could it be?… Rowing is hard. Shoutout to the rowing team here, it's a full-body workout, you would think it's just upper body, but you're using your legs and arms too," Schunk said. 
After it all, despite being a little nervous beforehand, and even having some time penalties, Schunk had a positive outlook on his experience. 
"I would definitely try to talk it up more with my students [in the future] and say 'Hey! Here's my time, see if anyone can beat it', just cause some students you know would be like 'Oh I can beat Mr. Schunk'. But yeah it definitely was fun," Schunk said.
However, this whole experience couldn't have been done without the people behind the fitness center and club, such as the advisor and operator Diane Swauger.
Swauger used to work at Millersville University, where they would have a 'Wellness Week' and host their own Dri-Tri. Last school year, while brainstorming ideas of what to offer from the fitness club with student officers, Swauger brought up the idea of doing a Dri Tri. Former fitness club president Sierra Grande really liked the idea, along with her fellow officers. 
So, they spent weeks working on plans for the competition– from figuring out where ergs (rowing machines) were going to come from, to what time of the school year seemed the most logical to do it, to figuring out the logistics of prizes. The whole process was very rewarding to Swauger as she watched from the sidelines. 
"It's fun to see the students compete against each other, it's fun to see officers of Fitness Club grow as they learn all the ins and outs of the backside of holding events… As an adult, getting to watch and be a part of the process, it's just very rewarding to see students grow and challenge themselves," Swauger said.
The Dri-Tri is just one step in the direction of making the fitness center a reliable place for students to stay or become active. Whether that means during an off-season, on-season, independent working out, trying to keep that 'A' in P.E., or trying to figure out what works for each individual student, Swauger wants to keep kids more involved with the love of sport and health. 
"I want people to come to fitness because they do it for their stress relief. Or, if they want a certain body composition or look a certain way, for their health. I think the competition should try to push them in the direction that helps them if at all possible," Swauger explained. 
If you're interested in getting more information about how to become more involved with the fitness club or the fitness center, reach out to operator Diane Swauger ([email protected]), fitness club president Molly Schreiner ([email protected]), or keep a lookout for announcements and posters about upcoming events. You can also find information through the fitness center's Instagram, @scfitnessclub.