The McShea Dancing Mistake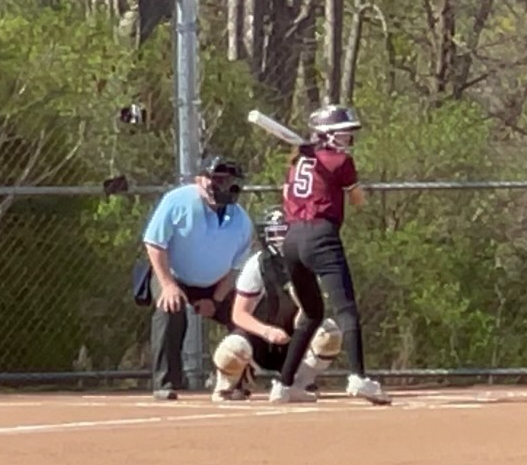 Mara Jade McShea is a sophomore at State High who has played softball since she was three. In those years she has played on multiple softball teams — State Lions Little League, Hailstorm, MNMS Softball, JV high school softball, Worth Prospects for Pennsylvania, and more. Yet, one injury has caused a standstill in her performances. 
With over usage of her left foot, being a pinch runner in travel ball, and going on trips that included excessive walking, MJ got to a breaking point. The day after softball tryouts (Jul. 27, 2022), McShea was dancing in her kitchen with socks on when she slipped and injured her foot. That night her foot started bruising, swelling, and hurting when any pressure was on it. However, it was not until the next afternoon that she went to seek medical help. 
Doctors revealed that she had fractured her 5th metatarsal. Little did she know, such a small fracture would follow her to this day and into the future. She has moved from a cast and crutches to a boot and crutches, and then to physical therapy, finally being cleared on Apr. 12, 2023.
Unfortunately, the road to recovery was not a smooth one. She had constant pain in her foot, ankle, and knee. This caused the need for taping her foot and knee if she was to ever do any physical exercise. McShea worked through it, and continued to do workouts during this period. The softball season has now officially begun, and her injury has caused some trouble.
"My injury has definitely affected me a lot through softball. It still hurts at times during practice and games, but I have healed and gotten better— a lot more than what I had been. However, something that was and still is frustrating is not being able to be at my fullest during games and practices still after being cleared [from physical therapy]. I did have the constant thought to just quit because myself mentally I didn't think I was getting any better. That I just put all of my work into getting better for so long, but to still be feeling all of this pain. Yet, I am proud of myself for how much confidence and especially determination I had to get better, I saw in myself that I wanted to get better and play softball," McShea said.
Regardless, McShea has been doing a wonderful job helping her team so far this season. On Apr. 18, the JV softball team had a home game, where they unfortunately lost 7-14. Nevertheless, she scored two doubles (one with errors and then a few more hits that ended with some runs-batted-in. On the Apr. 14, the team won 9-5. McShea scored a double, and two RBI's which lead to four runs thanks to her help. McShea is still not able to run at her fullest, but her drive to help her team keeps her going full force.
On the other side of things, working through this injury and then getting back into softball is not an easy thing. Cara McShea, MJ's mother, understands this well. She saw MJ's moods switch from upbeat to quieter and withdrawn. "Over the course of treatment, MJ's sadness increased because the progress was slow, and at times we thought she might need to have surgery. MJ's mood was like a roller coaster, some days up and some days down, it wasn't until she tried out for softball on March 13th that she felt decent about her ability to come back and play. I am proud of her for continuing her Physical Therapy exercises and for not quitting. She has given 100%+ with her treatment and continues to push herself a little more each day," Cara said.
Fracturing her fifth metatarsal was never on MJ's radar, nor was it wanted. However, she pushed through and continued to do her best even when she saw no hope of doing so. Now finishing her recovery, MJ will continue to play softball. The journey never was easy, and won't be for a while, but she feels as if she has progressed so much during this process, and has grown as a person too. She never completely gave up and continued to move forward. This process has now led MJ to want to continue softball past high school if the opportunity shows itself.