Time to Speak About Speak Now (Taylor's Version)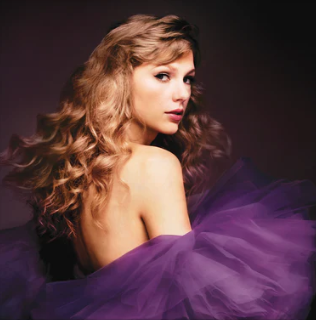 "Speak Now (Taylor's Version)" has at long last been confirmed! At this point in time, Taylor Swift has re-released her albums "Fearless", originally released in 2008, and "Red", originally released in 2012, and just announced her version of "Speak Now", which was originally released in 2010. The album will be available to the public on July 7, 2023. She announced this during her first night in Nashville on her ongoing national tour, "The Eras Tour". During the time mid-show when Swift announced the release date of the album, tour-goers cheered, along with fans online through an Instagram live, hosted by @taylornation. One of these fans sitting at home was freshman Delaney Shaha. 
"I did not really see [the announcement] coming. All I knew was that I was sitting in my bed, and then I scrolled down and saw that she was live, so I clicked on it. As soon as she announced [the album], I started crying because I grew up with that album," Shaha said.  Shaha has been a 'Swiftie' her whole life, so she was overjoyed and eager to listen to the new album and hopes to be able to get tickets in time for when Taylor Swift visits Pittsburgh in June.
For 'Swifties', perhaps the announcement for "Speak Now (Taylor's Version)" was not a big shocker for those that have an eye for noticing the easter eggs she lays out. Taylor Swift is known for coming up with very intricate and thought-provoking clues and presenting them through social media and her music videos to get fans to guess what project she is working on next. There was no exception to this throughout her most recent album era, "Midnights". Cara Zuech, a junior at State High, thought she noticed something a little suspicious that may have hinted at "Speak Now (Taylor's Version)" during the "Midnights" era. 
"In 'Bejeweled', the music video, there were so many easter eggs! From like the clothes she was wearing, to [when] she was in an elevator at one point with different colored buttons, and 'Speak Now', the color for it, was at the top," Zuech stated.
What Zuech is referring to with the elevator scene from the "Bejeweled" music video is when Taylor Swift hops on the elevator and goes to click a floor button, there are 13 floor options. Each floor option is a certain color, which appears to represent the color of each of Swift's albums. Swift in the video pushes on the button for the third floor, which is lit purple. The original "Speak Now" album was Swift's third album, which had a color scheme of purple. Additionally, the 13th-floor button was colored the same shade of purple as the button for the third floor, yet at that point in time, Swift only had 12 albums, not 13. This, along with multiple other easter eggs in the "Bejeweled" music video, hinted at Swifties what was coming in the near future. 
So, what can be expected to be on the album? Of course, just like all other "Taylor's Version" albums, there will be the original 16 songs — excluding "If This Was a Movie" — from the 2010 version of "Speak Now". "Taylor's Version" (TV) albums also include 'From The Vault' tracks — which are tracks that were written during that specific era, but never digitally recorded and unreleased to her fans. Swifties can anticipate six songs 'From The Vault' as shared via Taylor Swift's website when you go to preorder the album. 'From The Vault' songs are a mystery as of right now, however, there are some theories as to the title of those songs or bits of lyrics from them. 
Taylor Swift has been no stranger to dropping future lyrics in her social media posts, and even in her NYU graduation speech in Spring 2022, she was heard mentioning lyrics for her "Midnights" album. On May 5, Swift posted the "Speak Now TV" announcement on her Instagram account, saying things in her message such as "And the lump in my throat expands to a quivering voice as I say this," and "Along with your faith in me". Fans found the way she wrote her sentences a bit odd, especially because she doesn't talk like that in real life. Could these be future lyrics? Or just speculation? 
Another big theory that has been floating around social media is that one of the songs 'From The Vault' will be called "Yours". This is because Swift signed that same message as "Yours, Taylor" and she has two songs on "Speak Now" titled "Mine" and "Ours". This is probably one of the more probable theories, unlike some of the crazier ones online, such as Swift collabing with Fall Out Boy (FOB) simply because she announced it on the 20th anniversary of one of FOB's albums. Whatever Taylor Swift has in store for Swifites, it will surely be long live(d).