Scooby-Doo! Mystery Incorporated: Review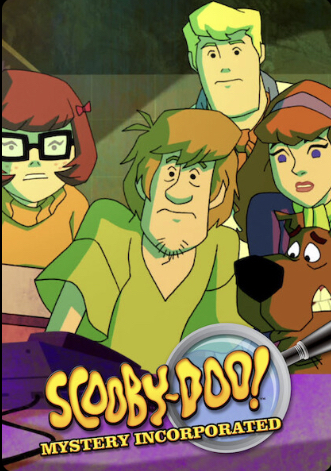 In Dec. 2021, Netflix had to say goodbye to "Scooby-Doo! Mystery Incorporated" due to their contract with Cartoon Network ending. Yet, in April 2023, the unique Mystery Incorporated TV show returned once again for more to watch. While the Scooby-Doo franchise is vast and has much to hold, this TV show is important because it allows people to see more of the past of the small haunted town, Crystal Cove, where the show takes place, and the citizens living in it. 
The Mystery Inc. gang includes Fred Jones, Daphne Blake, Velma Dinkley, Shaggy Rogers, and Scooby-Doo. They are doing their usual hunting of 'monsters' in and around their small town when they start getting staring letters from a Mr. E after finding a piece of jewelry. As time continues, they find an unsolved disappearance of four mystery-solving teens and their pet bird. Coincidentally, the group disappeared before Scooby-Doo and their gang started solving mysteries. With this new information, the group tries to learn what happened to them, but other factors, such as romance, start to tear the group apart. As the group works past the struggles, they realize just how much of a rabbit hole they have discovered and must question those they once viewed as loved ones. 
Scooby-Doo is part of a large franchise owned by the Warner Brothers, which was established in 1969 and is still growing. The original release date for "Scooby-Doo! Mystery Incorporated" for the U.S. was Jul. 12, 2010, and it ended on Apr. 5, 2013. As their cast, they had Matthew Lillard as Shaggy Rogers, Frank Welker as Fred Jones and Scooby Doo, Mindy Cohn as Velma Dinkley, and Grey DeLisle-Griffen as Daphne Blake, with Victor Cook and Curt Geda as directors. While some of these names may be unfamiliar, Matthew Lillard and Frank Welker have been voicing their characters for a while now. Matthew Lillard played Shaggy in two live-action movies and has voiced him since 2009 after Shaggy's previous voice actor had retired. Frank Welker has been known for voicing Fred Jones since its establishment in 1969. Nonetheless, both Matthew and Frank have not been the only voices for those characters, but they have become the leading voices for those characters. 
Sophomore Angelique Hawkes who enjoyed the TV show declared, "I liked how "Scooby-Doo Mystery Incorporated" took the classic series and put it on a more mature level with more twists and mysteries that were harder to solve. My favorite part was seeing the different monsters that would show up." 
Sophomore Jayden Knapp also recently watched the show. "I liked the animation, and how all of the different characters had different designs — nose shape, hair, eyes, etc. It really gives each character a distinctive look to them. Yet, it would also get repetitive at times. I do recommend it because it's a show for all ages and it's very comforting, even if it's a background noise." She rated the show with an 8/10.
As for myself, I do enjoy the show very much, and I have even binge-watched it a few times. The humor of the gang, along with the twists and tricks, truly are special. I also enjoy how the show brings in groups from past Scooby-Doo shows and movies. We see the return of the music group Hex Girls and Vincent Van Ghoul. On the other hand, I dislike how obvious the villains are in some episodes. Nevertheless, "Scooby-Doo! Mystery Incorporated" is a must-watch.