Mother's Day Gift Ideas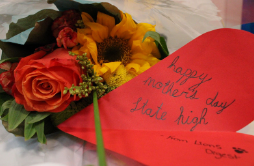 With Mother's Day steadily approaching, many students, especially those leaving for college, are frantically searching for the perfect gift(s). Some are showcasing their artistic talents with pottery and cards, while others are browsing the internet for a stylish pair of shoes or necklace. Whether you've been planning for months or have just started, have no fear, as the Lions' Digest has you covered!
Here is a short guide on what to get for Mother's Day.
Flowers
Flowers are always a great option to accompany a card or small gift. Their meanings, colors, and scents help to express the happiness and joy that can't always be said in words. Even if they are part of a small bouquet, it can still mean a lot to moms. 
"My mom loves flowers and I've noticed there haven't been as many flowers in the house lately. I want to change that because I know how much she likes them," junior George Mann said. 
 If you happen to live by a small market or field, grab a sweet bouquet of flowers and write a handwritten note for your mom. The fresh-smelling and colorful bouquet is sure to put a smile on any mother's face.
Make Something
Money isn't everything — some moms still appreciate a handmade gift from their children. Whether your artistic talents match those of Van Gogh or you cannot draw a stick figure to save your life, artistic expression is a gift any mother is sure to love. If you are currently taking any art classes or have a friend who is, try collecting some beads for a dazzling jewelry piece or some clay for a delicate piece of pottery. Sometimes even a simple drawing or card is all that you need to show how much your mom inspires you. 
A Day Out 
Some moms just like a quiet and relaxing day, while others may like to enjoy it outside of the house. There are a variety of options to choose from when it comes to a day out for or with mom. It could be a quick trip to the Arboretum, a nice brunch at the Waffle Shop, or a classic spa day.  Whether it's extravagant or mundane, a mother is sure to appreciate any time spent with them.
"I'm going out to the Altoona Beauty School with my mom and we're going to have a spa day," sophomore Jennifer Heim shared. 
Extra Advice 
"For all the Seniors, I recommend going all out this year because it may be the last year that you are living with your mom and showing her that you appreciate all she's done for these years," Mann recommended.  "For everyone else, get something that's sentimental. It doesn't necessarily have to be homemade as long as it has a meaning— it doesn't have to be expensive."