Baseball Team Wins District VI Championship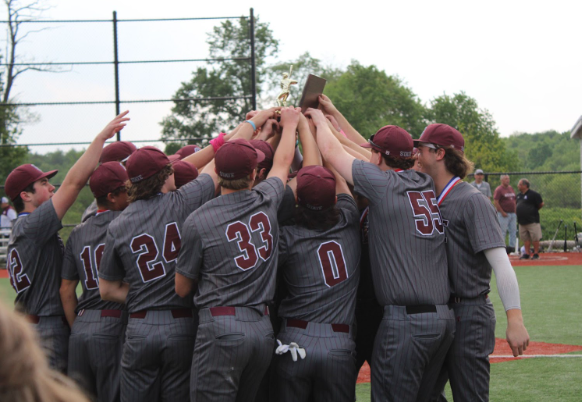 On Wednesday night, State High baseball took down Altoona 9-7 to win the District VI championship. In a full-team effort, State College beat Altoona for the third time this season to bring the district championship title back to State High for the first time since 2019.
Adam Cooper had the headline performance with a ground-rule double in the third inning and the go-ahead double in the bottom of the sixth. The Penn State Behrend commit finished the day three for four at the plate with three RBI. Head coach Dave Williams explained Cooper's attributes to the team."He's a leader of our team, off the field he's kind of our social leader, and on the field too he leads with his play."
Altoona began the game in firm control and jumped out to a 3-0 lead against State College's starting pitcher Sam Janik in the top of the second inning. Senior third baseman Connor Blough even attempted an inside-the-park home run but got thrown out at home.
State College quickly came back with two runs on three singles and an error by Blough in the bottom of the second inning. Altoona made some exceptional strategic plays and scrapped a run out of a walk, a bunt, and two stolen bases in the top of the third inning.
The heart of State College's order was unable to make anything of Cooper's ground-rule double in their half of third. It was sandwiched between three ground outs, including a great stop by Altoona's senior pitcher, Evan Alwine. Alwine, who is committed to Florida International, popped the ball up, caught it with his bare hand, and snapped a throw to first in time to beat State College's Carter Weaverling.
Going into the top of the fourth inning, State College brought in senior Cooper Ryan to relieve Sam Janik on the mound. Ryan, a Penn State commit, threw two scoreless frames while State College built up a 6-4 lead through the fourth and fifth innings.
State College put up three runs in the bottom of the fourth inning mainly due to Altoona's mistakes. Michael Gaul, Evan Summerson, and Sebastian Rhoades scored on just one hit. Gaul and Summerson reached on a walk and a fielder's choice, respectively, putting runners on first and second for Rhoades. Rhoades hit a routine single to Altoona's Trent Meyers in center field, who airmailed his cutoff throw and allowed Gaul and Summerson to score. Some savvy baserunning from Rhoades landed him on third and left Altoona reeling with the heart of State College's order coming up next.
Tony Herzing scored Rhoades with a sacrifice fly, but no further damage was done and Altoona got out of the inning only slightly losing 5-4. State College added one more run in the fifth inning before Alwine was pulled from the game after 102 pitches. Sophomore Gavin Albright c
ame onto the mound for Altoona and held it down for the rest of the fifth.
Ryan lost his control in the top of the sixth and hit two Altoona batters along with two walks which led to three Altoona runs. Connor Blough scored on a Brennan Freiwald walk, then Sam Saylor brought in two more runs with a bases-loaded single. Ryan did get out of the inning with State College only down one run, 7-6, but the damage was done.
State College wasn't finished yet. The bottom of the sixth inning began with a flyout by Eva
n Summerson, but that brought up the top of the order. Sebastian Rhoades legged out an infield hit which sent Altoona's manager Tom Smith out to argue the call with first base umpire Marty Knezovich. Another hustle play by State College came next, with Tony Herzing legging out a bunt to put runners on first and second.
Another player Coach Williams described as a team leader, first baseman Jack Messina came up with a massive single to load the bases for Adam Cooper. Cooper sent the ball deep to right center field and cleared the bases with a double to take the lead 9-7. Cooper was excited about the double. "It felt awesome to come up big for the boys in that spot, I'm just proud of our guys all through the order."
Cooper went on to say, "I'm just happy to bring the district title back to State College for the first time in a while." Altoona then made a second pitching change bringing on Connor Blough. Two consecutive flyouts shut down the inning, but Cooper's double was the dagger.
In a surprising move to many watching the game, Cooper Ryan trotted back out to pitch the top of the seventh inning for State College. Left-handed freshman Cody Norman and right-handed junior Gino Pighetti were warming up in the bullpen, but the coaching staff elected to stick with Ryan. Regarding the decision, Williams said, "We felt like it was really his game, he's been our closer all year so it was his game to either take us to the promised land or not." His decision proved to be perfect because Ryan gave up one single but sandwiched it between three strikeouts and closed the game out for State College.
The win pushed State College's record to 11-11 and set up a sub-regional matchup with Erie McDowell on Tuesday, May 30 at 1 PM.