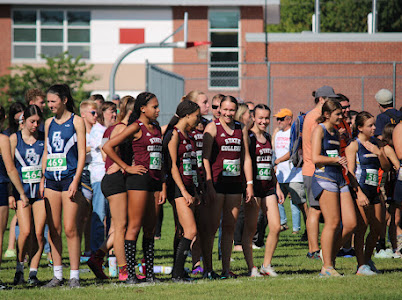 Despite just starting the season, the State High girls cross country team is already off to a running head start. 
Sept. 2 marked the start of the season when the girls headed to Reedsville, PA for the Big Valley Invitational. Last year, the girls won the invitational and they were determined to keep their top spot. A couple of hours later, not only did they keep their spot at the top, but they also left all the other schools in the dust. 
To prepare for the event, the team had a pasta night on Friday, Sept. 1 to carb load before the meet. In addition to the pasta night, junior Kristen Schellberg gave more insight into the team's preparation saying, "Right before the race starts we like to say a little chant called Thunder. We chant and jump around, it's epic. It's definitely a hype circle."
When asked if there was anything the girls wanted to carry from last season into the coming one Abigail Bigger said, "Our team bonding. I like that our team is like a family."
Prior to the meet the confidence of the girls team was high. "We're gonna sweep. State High always does well," Schellberg said.  This statement was rightfully said, with all of the girls placing incredibly well. 
On the junior varsity side, Sophie Baylis won, finishing minutes before any other school at 20:45.  Alexa Petersen, Sophie Dillon, and Molly Dell followed close behind finishing around 21:50. Makayla Raptosh, Autumn Swisher, and Lacey Sheaffer finished it off, all ending around 23:50, giving the JV team a score of 18.
For the varsity girls, Devon Jackson finished second overall but first on the team at 18:56. Chloe Poindexter, Devyani Wadhia, and Julia Bigger all finished around 20:03. Abigail Bigger, Kristen Schellberg, and Brooke Shellenberger, followed close behind, finishing around 21:21, giving the varsity team a score of 33.
Cross Country is scored by giving points to the first five runners across the line and, similar to golf, the team with the lowest score wins. State High finished with a score of 53 and Central Cambria came in second with a score of 114. 
The team's confidence, discipline, and energy were all felt during the meet. Their next race is on Sept. 5 against Chambersburg. If the girls bring the same mentality and excitement to that meet as they did the invitational, they are set for another great season!