The Pumpkin Festival was held from 6-9pm on Oct. 6, and 3-9pm on Oct. 7 at the Arboretum. Parking and admission were free for everyone. The main activity was viewing the jack-o'-lanterns from the jack-o'-lantern contest. Contestants could pick up pumpkins from the Arboretum starting Oct.1 and had to submit them by Oct. 6. The contest was split into categories based on age.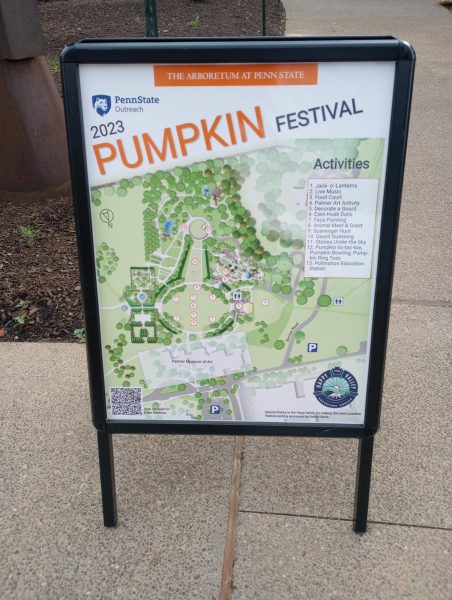 The contest wasn't the only activity the festival had to offer. Centre Wildlife Care had a stand at the event where people could observe and learn about some rescued animals. There were also pumpkin themed games such as pumpkin bowling and pumpkin ring toss. With lots of activities, the Pumpkin Festival brought in many people, including people from outside of State College, PA. 
"I'm always excited to come back and see those developments," Jakson More, a high schooler from Tipton, PA, said. While More expressed excitement for the festival, he did not express that same excitement when asked about participating in the contest. 
"This is the first time I've known about the contest. Now that I know about it, it's a really neat thing, personally pumpkin carving is not my thing, not specifically," More said. While the jack-o'-lantern contest is a big part of the festival, it's not for everyone. Enjoyment can be found from simply seeing the jack-o'-lanterns. 
Out of towners weren't the only attendees, as many people from State College went too. Piper Curling, State High sophomore, was also at the festival.
"It's fun, I like seeing all the little creations made by people," Curling said. Curling, like More found the Pumpkin Festival to be enjoyable. Curling also found it to be important. "I think it's very important because I remember coming here multiple times before and I think it's really cool for the little kids to see all the cool things," Curling said. 
The youngest age categories for the jack-o'-lantern contest were ages 2-4 and ages 5-7, ensuring that people of all ages could join in on the fun. While not all younger kids can carve pumpkins, they can still decorate them and find fun in viewing them.
Reese Petrosky, a junior at Penn State, attended with her friend Ashley Eers, another junior at Penn State. The two planned on decorating gourds and getting some hot cider. It was their first time going, and they both liked the festival.
"It's super beautiful, it's kinda like the best place that they have right now for the fall gets me into the October, autumn feeling," Petrosky said.
The Pumpkin Festival not only helped with entertainment but also with spirit. The pumpkin theme rubbed off of Petrosky getting her into an October and autumn feeling. While it took place after Sept. 23, the first official day of autumn, the festival still fostered that feeling.