The State High Girls Volleyball team held both their senior and teacher appreciation nights in the North Gym on Oct. 11 against Central Dauphin. State College lost to Central Dauphin earlier in the season 3-1, so this matchup was a highly anticipated game. However, the Lady Little Lions came ready to play on their big night and swept the Lady Rams in just three sets.
Prior to the game starting, State College head coach Chad Weight had a couple goals in mind for his team.
"There were a few things we were shooting for in this game. Work together, make Central Dauphin work hard for everything, be confident in ourselves, and play with a purpose," he said. Weight thought they performed all of these tasks very well and it clearly showed.
The Lady Little Lions won the first set of the night with a score of 25-20. The set was close mid-way through, until State College went on a 10-3 run, making the score 23-15. Central Dauphin slightly fought back, but State College had too much momentum, allowing them to pull away. To end the set, Annie LaMotta finished off the final point with a kill.
The second set of the match went back and forth. State College was able to maintain a small lead to start, until Central Dauphin called timeout as they trailed 10-6. The Lady Rams couldn't seem to connect their passes to setters then setters to hitters.
State College held their lead until Central Dauphin's Autumn Henry came up with a powerful ace, trailing just 18-15. This forced State College to call a timeout. After the timeout, Sarah Tate answered Central Dauphin's hopes of a comeback with a huge kill. State College then breezed through the rest of the set and won 25-18.
The final set of the night was not a very close one. Despite a Myranda Scherrer block and the Lady Rams jumping out to a 2-0 lead, The Lady Little Lions were unphased. State College came back to tie the set at 7-7, before they ripped off five straight points, capped off by another Sarah Tate kill, leading Central Dauphin to call a timeout. State College took commanding control after the timeout, and wrapped up the set with a final score of 25-17. In result, The Lady Little Lions won the match 3-0.
Overall, the night couldn't have gone any more perfectly for the Lady Little Lions. State College senior, Lily D'Altrui, believes that both senior and teacher appreciation night provided so much energy to the team. "Having all of the seniors on the court together playing the sport they love for one of the last times made the night very special, and without a doubt added to the energy," she said.
D'Altrui also added the impact she felt from the teacher's presence. "I'm so glad that I was able to share that night with my teacher of appreciation. It was a great time having so many people I care about in one area," she said.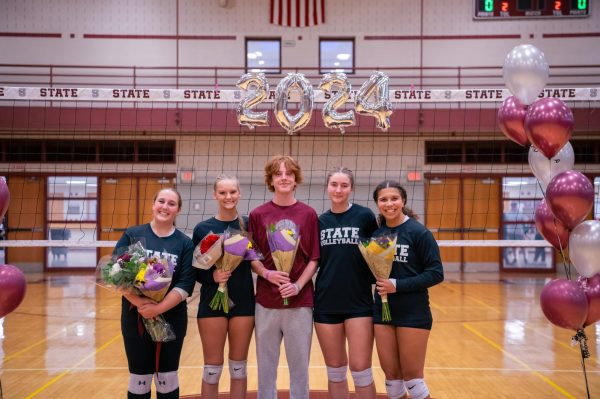 State College hopes to stay consistent and carry the momentum of their win into the home stretch of the season. "Tonight we were able to play together and have fun. Whenever we do that, our skill falls into place with ease," D'Altrui said.
The Lady Little Lions are back in action at home on Oct. 14, playing in a Tri-match against Hempfield and North Allegheny.