Come be a part of the new face of Freddy Fazbear's Pizzaria! What could go wrong?
On Oct. 27, the "Five Nights at Freddy's" (FNAF) movie will be released in theaters, as well as on the streaming service Peacock. Fans have waited for this moment since the first game, created by Scott Cawthon, came out in August of 2014. 
Rated PG 13, the movie follows security guard Mike Schmidt as he begins his career of working the night shift at a children's pizza place with animatronic attractions. 
Originally, Warner Bros. Pictures had announced in April 2015 that they were going to produce a movie adaptation of the original game, partnering with Cawthon for authenticity. Warner Bros. Pictures ended up dropping the project and Blumhouse Productions took over in March of 2017.
It has taken eight years for this movie to be produced, but after director Emma Tammi joined the production, everything started moving forward. With a budget of $25 million, all the pieces have fallen into place.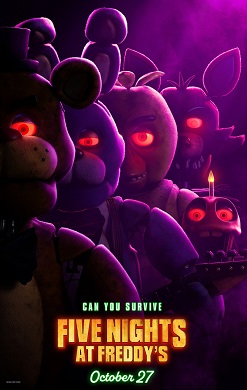 "I'm excited to see Peeta from 'The Hunger Games'," Gabe Gamson, a sophomore at State High said. 
The film stars Josh Hutcherson as Mike Schmidt, who is well known for his role as Peeta Mellark in "The Hunger Games" series, as well as Kevin Foster as Freddy Fazbear, Jade Kindar-Martin as Bonnie, Matthew Lillard as William Afton, also known as Purple Guy, Piper Rubio as Abby Schmidt, and Elizabeth Lail as Vanessa Monroe.
Like many other kids, Gamson has enjoyed playing the game and is looking forward to viewing the movie, which he will be attending with a group. 
The students at State High have been buzzing about this upcoming film. Though it may not be for everyone, FNAF sure has a strong fanbase.
"I'm so excited! I can't wait," sophomore Olivia Jackson said. "I've watched other people play it. It's been kind of a thing for me since elementary school."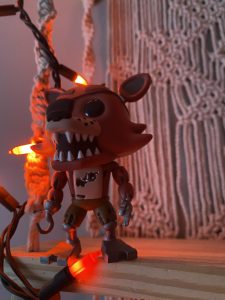 Since many high school students grew up with this game, it often is related to their early adolescence. The game itself has a nostalgic feeling to it. 
Many people seem to be looking forward to watching Freddy Fazbear's Pizzeria come to life in this upcoming film. It's the perfect spooky movie to go see, and just in time for Halloween.
Even if you don't share similar connections with the games, it will definitely be worth a watch this October.