From State High to Mile High: Q&A with Jordan Norwood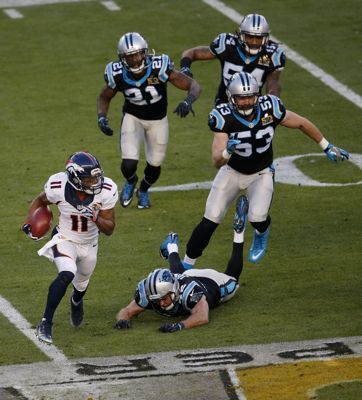 Jordan Norwood, a State High graduate played in the Super Bowl last month with the Denver Broncos. In that game, the Broncos won their third Super Bowl in franchise history. I had the chance to talk Jordan about a variety of things ranging from his family all the way to where he is today, a Super Bowl champion.
How did being lightly recruited out of high school motivate you?

I don't think that motivated me. I didn't play much HS football so I didn't feel like I deserved to be recruited heavily. I was just thankful for the opportunity that Joe Paterno gave me.
Who do you look up to the most?

My dad. He introduced the game of football to me, he led me in my faith and taught me how to be a man and now husband and father. He really encouraged me during all the times that I wanted to quit playing sports–which happened quite a bit.
Growing up, who was your favorite professional football player?

My favorite NFL players growing up were Barry Sanders and Az Hakim. Barry Sanders because of how shifty he was and Az Hakim because I felt like I was the same type of player as him and he wore awesome sneakers on the St. Louis turf like I would have done.
You recently became a father, what has that been like for you?

It's been great! It's really opened my eyes to what is important day-to-day and helps me shrug off things that aren't really worth the headache.
What has your journey in the NFL been like for you?

It's been long. I have learned a lot in each season–both about the football business and about myself as a man.
You were part of the 2003 State Championship team in basketball that beat Chester High School. What was that experience like for you?

It was great to be able to experience that, especially alongside my older brother, Gabe. Despite my college and pro football career, that HS state championship is still one of the highlights of my athletic career.
What was it like to watch your brother Gabe be a part of the 2006 George Mason team that made it all the way to the Final Four?

It was awesome to see my brother and his team succeed. The actual games were tough to watch as a spectator and brother–there was so much pressure in the NCAA tournament, I think I was more nervous and anxious than my brother was!
When you attended State High, which teacher that you had made a positive impact on you?

I didn't have Drew Frank as a teacher, but he had the biggest positive impact on me. He gave me the opportunity to play varsity basketball, which led to my athletic career as it stands now. He also showed a lot of perseverance and humility during our state title run in 2003. We were the underdog and he taught me a lot about how to embrace that role as a competitor.
What goals do you have for yourself, whether it be in life or on the gridiron?

I try to stay away from making goals. I don't want to put a ceiling on what God has planned for my life.
What was going through your mind when you returned the punt in the Super Bowl for a record 61 yards?

I was just trying to make a play. The game before there was a short punt that I didn't catch and it ended up rolling back another 15 yards or so. I guess, that was in the back of my mind too.
What advice do you have for anyone who aspires to be a professional athlete, like yourself?

I would say to enjoy the moments and don't look too far in the future. I didn't exactly aspire to be a professional athlete. I enjoyed playing basketball and football and tried my best every time I stepped on the field on the court. Eventually, I just found myself in a position to keep play at the next level and the level after that.