Spotlight on Katelyn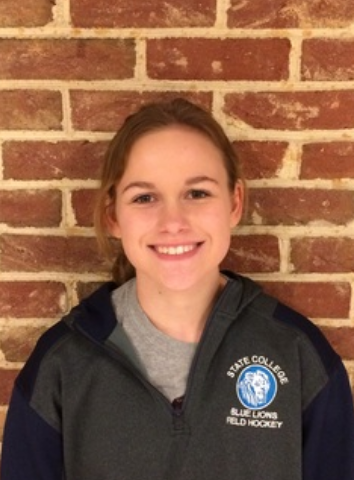 Katelyn Sullivan is a sophomore at State High, and there is a lot more to her than what one may think. She has been playing field hockey since 7th grade and is the up and coming star goalie.
"My past experiences playing field hockey have been enjoyable and helped me to grow as an athlete," Katelyn said, explaining how she had grown in this sport. She plays field hockey year round, with blue lions indoor in the winter. She was at first a midfielder, and decided she would excel as a goalie. She progressed quickly, getting more saves per game.
Starting off as goalie, however, can be a little intimidating. "There is a lot of pressure as goalie, you're the last stand before the other team can score". But she handles the pressure well with several games she helped remain a shutout.
Katelyn also enjoys helping out newer kids. "I enjoy playing for the JV team because the new players get a chance to develop their skills." As she improves her performance, she helps others progress in their skills as well.
Not only does she play field hockey, but she produces music tracks and kick boxes. She maintains a 3.8 GPA while participating in all these separate activities. She has a proclivity for hard work and accomplishments.