A Year Gone By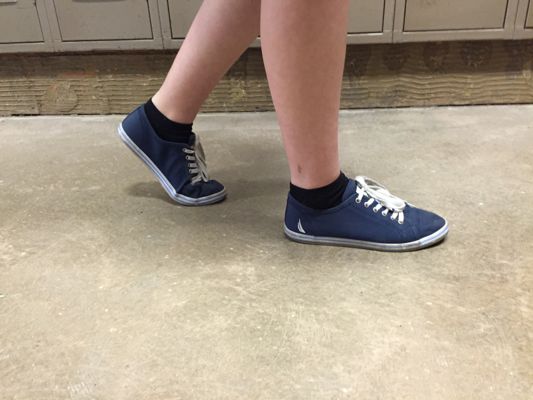 The 2015-2016 school year has been a year of change. One of those changes has been State High switching from a regular schedule, eight 45 -minute periods, to a block schedule. State High started implementation of the A-B block on September 1, 2015, the first day of school. Rumors of the impending schedule change came in December 2014, according to Lions' Digest. Official confirmation of these rumors happened mid-December that same year. According to Lions' Digest, SCASD administration thought the schedule change was, "a necessary change for the high school," since construction on the new high school would be starting in June 2015. In fact, construction was one of the largest motivating factors in the switch to block scheduling. It was ultimately decided that students would need to have more time to cross the street since the paths to and from the South Building would be less direct and take more time. Students would have eight minutes, instead of six, to cross the street. With the regular bell schedule, this would have resulted in almost 48 minutes of time designated to class changes, significantly shortening the amount of instructional time. With block scheduling, there would only be four class changes a day, as opposed to eight.
     People have had many opinions on the block schedule since it was first introduced in December 2014. In a survey conducted in June 2015 by Lions' Digest of 200 students, "72% of the students surveyed said that they were not in support of the block schedule… Also, only 20% of students surveyed said that they felt as if their input was taken into account when making the decision." However, now that the first year of its implementation is coming to a close, students have gotten a better feeling for the new schedule. Some students' opinions have changed since they first heard about the new scheduling. Senior Katelyn Servey said, " I appreciate it [block scheduling] more now that I am going to college." Junior Julia Bieberdorf stated that her opinion, "has changed a lot," and that, "…last year when they were discussing implementing it, I was irritated because I thought classes were going to be unbearably long and boring and I wouldn't be able to pay attention in them." Now that Bieberdorf has experienced block scheduling for a year she now knows why the switch to, "block scheduling makes sense."
However, the block schedule isn't without its challenges. For some, block scheduling has made it more difficult to catch up on material when absent and attend field trips or other events where class would be missed. For others, block scheduling has made it harder to remember what was done in classes.  "The biggest difficulty is missing class," said Bieberdorf. This can be a difficulty since on the block schedule, missing one class is equivalent to missing two classes on the old bell schedule. " You are required to make up all of the classwork as well as the humongous amount of homework." said Bieberdorf. Also, for some block scheduling has made it more difficult to contact teachers when you will be missing class. "If I'm missing school, I have to alert teachers several days in advance because I don't see them every day," said sophomore Tejas Wein.
Student stress and overall well being was another factor that played a role in the decision to switch to a block schedule. According to Lions' Digest, in a survey done in 2015, "students from State High reported higher than average levels of anxiety, depression and suicidal thoughts." They also stated that, "74% of people think that the new schedule would be more stressful."   When asked if she was more stressed out this year due to inpart by block scheduling, Servey stated that, "yes" she was more stressed out. Bieberdorf said that she's, " more stressed because of the amount of homework that is assigned," which is an effect of the switch. When block scheduling was first announced, the amount of homework students' would receive on the new schedule was a question many asked. In an article by Lions' Digest in June 2015, it was stated that, "Most teachers recognize they cannot pile on excessive amounts of homework and expect positive results, and are going to work to thin out the amount [of homework] assigned." While some students find that block scheduling has increased their stress levels, some find that it has been less stressful. "I think the block schedule is less stressful," said Wein, "I feel that the block schedule lowers my stress by allowing me to be more flexible in when I complete homework."
Students also have noticed the effect block scheduling has had on their work ethic and study habits. Some believe that block scheduling has had a negative effect on their work habits. It's, "harder to get work done because you can procrastinate the work for a longer amount of time," said Servey. Procrastination was one thing that students have seen in their changing work habits. Wein states that,"I may have become more of a procrastinator because of the two-day time between classes."
Block scheduling has also brought about changes to many things. One item changed this year was lunches. Starting this year, every student had a scheduled time for lunch. In order to fit lunch periods into the block schedule, they had to be shortened. Lunches were shortened to 30 minutes; almost 17 minutes less than the 47 minutes students had to eat lunch last year on the old bell schedule. To many, this change was upsetting and made lunches too short. In an article published by Lions' Digest in October 2015, " over 75% of students reported feeling that their lunch period was too short." Although that survey was conducted towards the beginning of the 2015-2016 school year, there are still some students who dislike the shortened lunch periods. "Lunch is usually one of my only times in a day to socialize with people and to relax a little from the stresses of school. In 30 minutes, it's very hard to be able to eat, wait in lunch lines, and talk," said Bieberdorf. Others have enjoyed the shortened lunch periods and have gotten accustomed to them. "I enjoy the 30 minute lunch, it breaks up my day and lets me see friends," said Wein.
Teachers were another group who also had to experience the switch to a block schedule. The change was seen as a positive one by some and more beneficial compared to a 47 minute class. One example of this would be art classes. Art teacher Danielle Crowe thought that block scheduling was more beneficial to her art students, "…because the most important benefits of art class for a student are found in the spans of time they have to generate, develop, and refine ideas." Teachers have had to come up with different ways to solve challenges that came with a switch to a block schedule. These issues range from keeping students focused in class to productively using class time. "One instructional challenge is definitely staying cognizant of your students' need to have things changed up within a block," said Crowe, "Also, since the spans of time can feel abundant, it's sometimes hard to stay focused on maximizing it the same way we do when time feels scarce."
Overall, the switch to a block schedule during the 2015-2016 school year has been a learning experience for students and teachers alike. While there were many worries about the new schedule when it was first announced, most people think that block scheduling is not as bad as they thought it would be and agree that it was the best decision to deal with changes going on at the school like construction. Block scheduling has been an adequate way to serve students needs during a time of great change.