Drumming His Way Into Our Hearts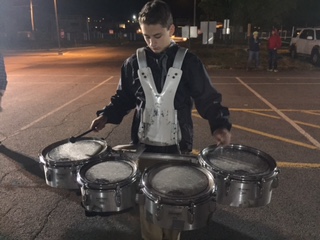 The State High Marching Band is one of the biggest extracurricular activities offered here at State High. One of the most notable parts of the band is the drumline. Composed of cymbals, bass drums, quads, and snares, the drumline is a large part of many State High sporting events.
Pete Lauer, a junior on the State High drumline said, "I've been on the drumline since I joined my freshman year and I've been playing drums since fourth grade." Over the years his percussion skill set has expanded, Lauer said, "I play all percussion instruments including piano, and I love to play the quads which I'm playing right now." With several years of experience under his belt, Lauer has several fond memories with the music program. His favorite memory is a recent one, "I began the drum battle at the first football game this season. Both drumlines lined up on the fifty yard line and played songs back and forth," Lauer said, "It was a lot of fun."
Lauer talked about how he also participates in State High's symphonic band. "In Toronto the symphonic band was rated  best out of everybody there. The jazz band was rated second best." Having played at a variety of venues with many different sizes in crowds Lauer said, "In marching band there are around 200 kids so there isn't much attention centered around me specifically, it's pretty low stress for me." Having been involved with many of the different facets of marching band Lauer provided advice to anybody joining the marching band or music program, "Marching band is a big commitment, just be prepared."
Besides music Lauer is passionate about many other extracurricular activities, "I participate in the Technology Student Association where me and teammates compete in events related to technology at the regional, state, and a national level. This year alongside good friends Jason Lee and Tejas Wein we made it to nationals in the Techbowl event. We ended up getting first place in the nation and it was really cool to take home the trophy." Although Lauer has enjoyed much of his time at State High he said, "I'm most excited for finishing up my junior year and starting senior year."
Lauer along with the rest of the drumline and marching band will be taking the field on October 6th and 7th for the homecoming parade and football game. The music program, along with other State High extracurriculars, offers great opportunities for students to pursue their interests and meet new people.