Big Fish in a Small District Pond
The world of sports is a popular yet complicated one.  It's every team's dream to go onto to win a coveted state title for their school.  However, this can often not be accomplished until a district championship win is secured.  A loss could seal the end of the season, whereas a win may lift a team to the state playoffs.  Because of this, district championships games are undoubtedly high pressure.
Simplifying what a district actually encompasses is no easy feat.  There are 12 districts in the state of Pennsylvania, and the State College area is enclosed in the district 6 (see image below).  These districts are further broken down into classifications by the size of the school.  State High, having a large enrollment rate, is typically the highest of the PIAA classifications.  Peg Pennepacker, the State College Athletic Director, stated that "It's done mathematically.  So, what they do is they'll break down the number of schools that have the sport and divide it accordingly."  The State College field hockey team, for example, plays in AAA division, the highest offered for the sport.  However, a sport that is played by more schools, such as football, has 6 classifications.  This number has recently been upped by the PIAA from the previous years where only 4 categories were available.  State College football participates in the 6A division.
Because of the State College Area High School's unique size, there are only two schools that offer field hockey of similar massive magnitude in the district 6 region.  One being State College, and the other, rival Mifflin County.  This means that annually State College and Mifflin County meet to battle for the district 6 championship title, growing the already competitive nature between the two teams.  Lily Dochat, a junior on the field hockey team said, "We know what to expect when going into the game, which only increases each team's will to win."
Prior to the admittance of State College into the Mid Penn Commonwealth Conference, things were even more complex.  State College sports used to be a random conglomeration of independent conferences, teams, and games.  Basketball, for instance, was not in a conference and used to only have a handful of home games.  This forced the team to almost always compete on the road, an obvious disadvantage.  A uniform and unchanging routine for all sports became necessary.  The assistant Athletic Director, Ryan Walsh said "We were looking for a league to give a set schedule where you play Monday/Wednesday or Tuesday/Friday.  It brought some consistency to scheduling for all sports" regarding the switch to the Mid Penn Conference.
Sports are in a realm of confusion, especially being a considerably large school surrounded by much smaller schools.  Pennepacker claims that "We're kind of victims of geography here.  We're a big fish in a small pond."  Despite all this, State College Athletics has found a way to successfully fend for district titles and wins across all sports.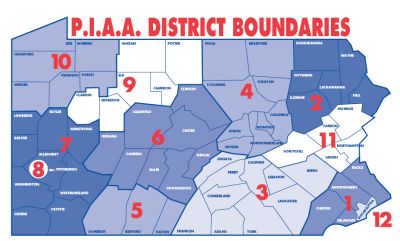 Source: www.piaa.org