State High continues winning streak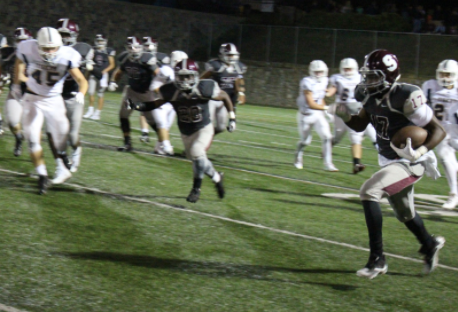 State College's varsity football team pulled out a win against Hollidaysburg on Friday, September 8th. With a final score of 55-27, State Colleges Isaiah Edwards, sophomore, scored his first varsity touchdown. Along with his first, Edwards also scored two more touchdowns during Friday's game.
"It's such a great feeling to pull out a win," Edwards said. "This is the first win of many more to come," he added.  
Edwards took the handoff and ran twenty yards downfield and escaped the grasp of his tackler to score a 61 yard touchdown. The crowd went wild and the excitement filled the stadium as State High grew closer to their second win of the season. The team was all smiles while walking off the field after their win, as they sang along with the crowd to the marching band performance of the alma mater.  
Looking back at their win, defensive line coach Dirk Grissinger was filled with pride as his players did their job on the field. It's every member of the team that makes up the win, and without the linemen doing their part, no one would be able to make a touchdown.
"We are playing with a lot of new players on the varsity level. It's a big job but our boys are looking good," Grissinger said.
Looking forward to their next game on Friday, September 15th against rivals, Mifflin County, State College will be working hard to prepare for their third game of the 2017 season.
"We start to work Monday and focus on them all week on what to do," Grissinger added, "and the game falls into place."