State High Comes Out On Top In The Harry Groves Spiked Shoe Invitational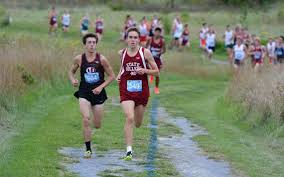 University Park: Cool crisp air with a high of seventy-five degrees greeted the eighteen teams competing Friday, September 8th in the Annual Harry Groves Spiked Shoe Invitational at The Penn State Golf Courses. The teams selected to participate in this meet were State College Area High, Carlisle, Penns Valley, University High, Loyalsock Township, Daniel Boone, Phoenixville Area, Saint Joseph's Catholic Academy , Williamsport Area, Clearfield Area, Bellefonte Area, Selinsgrove, Muhlenberg, Hollidaysburg area and Tunkhannock High School.
State High's own Mitchell Etter (Senior) completed the 5,000 kilometer course in first with a time of 15:51 while University High's Phillip White came in second with a time of 15:59. Loyalsock Township's Quinn Serfass (16:16), Carlisle's Jack Wisner (16:19) and State High's own Owen Isham (JUnior closed out the top five with (16:20). " It was an exhilarating race, I am proud I won, but I am more proud that our team made a move in the right direction towards running at States", Etter Said.
State High gained their first win of the season with 65 points, with Carlisle's team  coming in second with a total of 77 points, Penns Valley 105 points, University High 119 points and with a total of 130 points Loyalsock Township closed out the top five.  The team with lowest score wins the meet, how many points you get depends on where you placed in the meet, with the higher you place in the meet he lower the points you get and the lower you place the more points you get. The point system starts out at one and goes up to how many runners are in the race.
Winning the Harry Grove's Spiked Shoe Invitational was a major achievement for the boy's team making the road to States that much closer, which is one of the main goals for this season.