Boys Soccer Team Against Cumberland Valley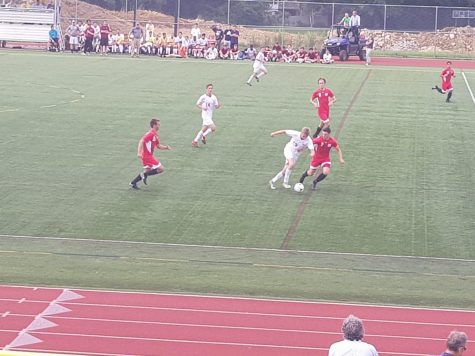 On September 12th, the State College Area High School Boys Soccer team played Cumberland Valley at the South Track. State College had a number of scoring chances, but couldn't convert. State High defenders did a great job of, as they only allowed one goal. Cumberland Valley had a difficult time approaching the net throughout the entire the game.
Four minutes before the game ended, with the score tied 0-0, Austin Warren, the Cumberland Valley high school forward, scored the game's only goal. Cumberland Valley High School won the game by the score of 1-0.  
Tuesday's match was the first loss for State High Boys Soccer team this season.
Defender Dungan Adams said, "Overall our team played pretty well and had a couple of good chances to score. We played well defensively and I had a bunch of defensive headers."
Scott Morelli, another defender, thought the best moment during the game was when his headed a ball over the top of the defense for the attacks to run to. "I think individually I didn't play that great and neither did most of team, but we should beat them [Cumberland Valley] next time we play them."
"We have had a good start to the season," said junior Sean Kelleher, who plays as both a defender and a midfielder on the team. "This was the first game we lost."
State College's next opponent is Mifflin County on Saturday, September 16th. The game will be held at Mifflin County High School.