Girl's Cross-Country Dominates Senior Night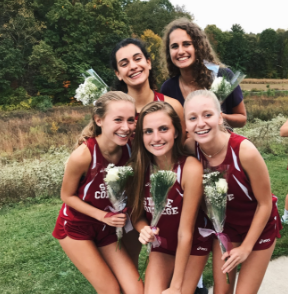 On Monday, October 9th, the State College Girl's Cross-Country Team took on Altoona and Penns Valley on the State College home course at Circleville Park. The State College girls ended up on top with two wins. Against Altoona, the State College girls won with 15 points while Altoona had 50. Against Penns Valley, State College also won with 18 and Penns Valley had 45. Following the race, seniors were recognized by the coaches and received flowers and blankets for their last meet at home. Three varsity girls who ran at the States meet last year are now seniors; Cailin Saylor, Gabbi Bock, and Julia Neely.
Saylor, who has been running varsity for the team since her freshman year, ran the 5k with a time of 21:40. "It feels good to be victorious at our last home meet," Saylor said shortly after the race. "I feel sad about being a senior in cross-country because I've met my best friends here and I've gained so much from all the hard work." Saylor emphasized the positive impact running has had on her life over the past four years. "Running makes me feel free, whenever I'm stressed out I toss on my running t-shirt and go for miles," she said. "The more miles, the more smiles."
On the 14th, the State College girls take on other Mid Penn teams at the Mid Penn Championships at Big Springs High School. The team is looking to defend their title at the District 6 meet on October 28th, which will lead them to States. After coming in fourth place at last year's State meet, the expectations are high, but the team is very hopeful.