Bellator 186: Trying to make new fans of MMA
As Bellator MMA announced with Penn State in August that they would have two former Nittany Lions (Ed Ruth and Phil Davis) fight at the Bryce Jordan Center, it seemed like a perfect fit. Bellator would bring the fighters and Penn State would bring the ticket sales.
That was the main reason for why Senior Drew Reisinger attended the fights on November 3rd "I heard that Ed Ruth was going to be fighting and I was a fan from when he wrestled at [Penn State], so I went to see him and the other fights then too," Reisinger said
For some though the draw of two former Nittany Lion greats wasn't enough to buy tickets at the Bryce Jordan Center "Even though I don't mind MMA in general, I really had no idea who any of the fighters where besides the Penn State guys, so I didn't find it real appealing to go to," senior Nick Dimidio said.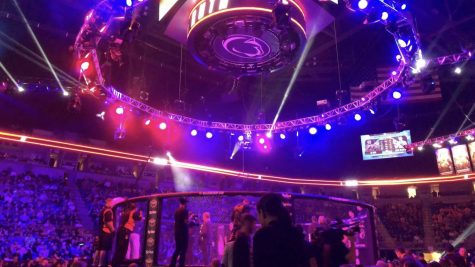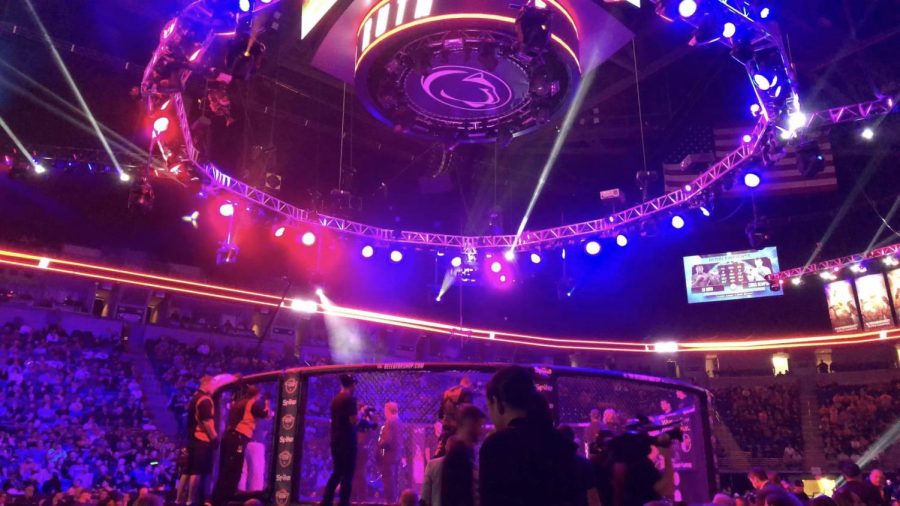 And that seems to be one of the two major problems MMA faces today. First, going on with what DiMidio said, the MMA have few stars that are mainstream. The two that come to mind to most are Conor McGregor and Ronda Rousey. But, the ladder has only fought twice in the last three years — and lost both, and the former's last sanctioned fight was a boxing match against Floyd Mayweather (which he lost via a TKO in the 10th round.)
The other reason is the sport itself. Besides the sheer violence of MMA that turns many people off in the first place, the other controversies surrounding the sport contribute to the lack of fans as well. Professional MMA is filled with fighters trying to get an edge in fights with performance-enhancing drugs and prescriptions. Long lasting injuries such as concussions, tears, and broken bones are a regular occurrence during bouts. And not to mention that the sport isn't regulated in several states across the country – and even banned in four.
Even though there may be many against MMA, it didn't stop Bellator from almost filling up an usually empty Bryce Jordan Center. The crowd cheered on Ed Ruth and Phil Davis to back-to-back victories and saw history with the first Bellator Women's Flylight Champion be crowned to Ilima-Lei Macfarlane. In the process they might have made a few new fans; "I'll definitely following Ed Ruth and Phil  Davis fights from now on, any maybe I'll tune into a couple bigger UFC Bellator fights too" Reisinger said.
Bellator teaming up with Penn State wasn't going to change the sport overnight, but finding new fans is a great way to get there.
Below are the results of the main card from Bellator 186:
Bellator Light Heavyweight Championship: (c.) Ryan Bader def. Linton Vassell via TKO (Rd. 2, 3:58)
To determine the inaugural Bellator Women's Flyweight Champion: Ilima-Lei Macfarlane def. Emily Ducote via verbal submission (armbar) (Rd. 5, 3:42)
Light Heavyweight: Phil Davis def. Leo Leite via unanimous decision (30-27, 30-27, 30-27)
Middleweight: Ed Ruth def. via KO (Rd. 2, 0:27)
Lightweight: Saad Awad def. Zach Freeman via TKO (Rd. 1, 1:07)