State High Takes the First Home Game
On Friday night, December 8th the State High North Gym hosted two boy's basketball games.
McKeesport HS took on St. James School at 6:00pm followed by HS of Econ & Finance against State College Area HS at 7:30pm. It was State High's first game and State High came out on top for their first home game of the season with a final score of 78 to 36. The first quarter was tight but State High ended it with a lead of a few points. After the second quarter State High was pulling away from HS of Econ & Finance creating a huge score difference. State High took home game the victory winning with over double the score of HS of Econ & Finance.
Senior Ben Shaffer (#10) said, "We all felt pretty excited before their game. Especially since this was the first of the season it was easy to get excited for it. I felt pretty good, everyone felt pretty good during the game. It was a lot of fun to be apart of. And we felt good to get a big win like that. A lot of things have to be done right and we executed our game plan well."
Other upperclassmen had similar ideas. Senior Drew Friberg (#2) said, "I was super excited for the first game. Our team had been working hard in the preseason and we were ready for the opener. It was so exciting to play and felt great to win our first game."
The team played hard for the first game and felt awesome after coming through with the win.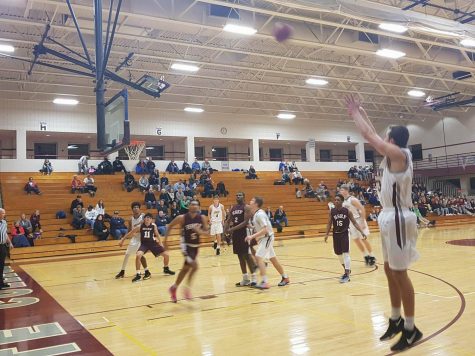 Ryan McNulty takes a three point shot during the first home game against High School of Econ and Finance. "We started our first game on a great note. We got the crowd on their feet with our fluent ball movement and shooting. As a team, we did really well pushing the ball up the court, running our lanes in transition, and shooting the ball. It felt great getting a big win on our opening night," said McNulty. The final score was 78-36.