In with the old, out with the new: State High senior on reinventing designer jewelry
While looking for a way to occupy her free time, senior Zoe Brown started making necklaces from charms and pendants she gathered, many of which are from brands such as Gucci, Louis Vuitton, YSL, and Hermes.
A Gucci necklace with a plain, small silver chain and a wolf charm on the end costs $430 while a Louis Vuitton pendant necklace with the LV logo on it sets back the buyer $730. Instead of the steep corporate prices of Gucci and Louis Vuitton, Brown sells her jewelry from $140 to $300 on an Etsy shop called Ritzybabes.
The name Ritzybabes was her mother's idea. "I was sitting around trying to think of ideas for so long I was like, all of these don't sound good or aren't characteristic of me," Brown said. "Ritzy means expensively stylish and I felt like that went along with what I was doing and babes are the people who I'm making it for."
Now in her senior year of high school, Brown said, "My course load is so easy I was just incredibly bored." Her mother then posed the idea of starting a business and Ritzybabes was born. Brown started collecting unique pendants and charms from luxury brands and fixing them onto chains as necklaces. She said brands like Versace and Chanel "sell necklaces they're like $2,000, they're ridiculously expensive for no reason."
Her necklaces are "similar and they're kind of unique in their own way and [she] can make them way less expensive by just taking parts and pieces of other things." It can take her up to an hour and a half to assemble a single necklace.
Looking at her Etsy page, a wide variety of brands are showcased. Brown said she finds most the charms from the internet. "There's one woman I work with who lives in Paris who goes around all these vintage stores in Paris and finds stuff," Brown said. "We found her through one of the other websites and I messaged her and was like, 'Oh do you have any more of these,' and she was like, 'Oh yeah, I have these at my house that I've just collected over time that I don't need.'" This connection allows Brown to obtain unique, authentic charms, that may usually not be found in stores near State College.
Her customer base grew mostly from word of mouth–but it extends across the nation. "I've had customers in California, Arizona, Texas, Missouri, kind of all over. I have definitely had a lot of people from State College, too," Brown said. Etsy allows users to "favorite" her shop thus spreading it further across other users' screens. She said, "People can favorite your shop and the more people that favorite it the more people that see it." Etsy also allows her to sell her products without having to deal with the financial transactions of an independent website.
As her final weeks of high school come to a close and new students orientation day at the University of Michigan creeps closer, Brown has no plans for ending Ritzybabes.
"Next year I'm leaving for college… I'm gonna hopefully bring it along there with me but it's just something I like to do on the side to make extra money," Brown said. "It's something I enjoy doing, it's not a burden of like, 'Oh, I have to go do this,' it's like, 'Oh, I get to go do this.'"
Find Ritzybabes on Etsy: https://www.etsy.com/shop/ritzybabes
About the Contributor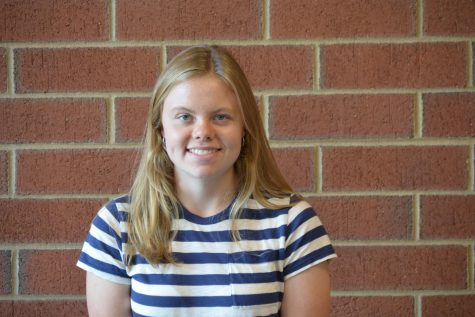 Grace Roeshot, Online Newspaper Editor-in-Chief
Hi, I'm Grace and I'm a senior at State High. I enjoy cooking, biking, and finding new artists to listen to. I  joined journalism to sharpen my writing...