Pop Up Avenue Returns for Annual Fall Event
Pop-Up Avenue, an urban outdoor flea market with a variety of music, art, and food, has arrived in the heart of downtown State College for its 7th event. This market takes place about twice a year, typically in the fall and in the spring. A winter market has also been added in the last two years. Brad and Andrea Groznik, the creators of Pop-Up Avenue, wanted to create an event that would have a similar style to the pop-up markets they attended when they lived in New York City. Pop-Up Avenue took place Saturday, September 28th from 11 a.m. to 7 p.m. on South Fraser Street. Starting in 2016, Pop-Up Avenue has gained momentum with the community and now draws in over 3,000 people to each event. 
In total, 47 vendors attended the market. Vendors were required to fill out an online application to attend. Products sold by vendors were required to be either handmade or vintage. Some food vendors included Koo-Weh Nane, Maine Bay & Berry, Taylor Chip, The Perfect Dough, Husky Bros Popcorn Co., and a beer garden, once again provided by Elk Creek Café and Aleworks. While customers grabbed food and drinks, they could sit in the garden and listen to live music performances. First Wizard of Groz played a DJ set, followed DJ Elbow Knee Knee who performed another DJ set. Next, Ady Martínez took the stage and Hops & Vines played an acoustic rock set that closed out the day's performances. 
Creating a sense of community, Pop Up Avenue has been connecting people to the art and vintage world since it started in 2016. "It brings more of a community to art culture and even music and food. Everyone comes together," Kate Veneziano, the vendor behind the embroidery art from her business, The Beefy Chicken, said. "It's something nice to bring more variety to our little town."
Veneziano has only participated in two Pop-Up Avenues but appreciates the opportunities that the event brings her. "I guess just the opportunity to present my work and be amongst other great artists and makers is rewarding," Veneziano said. "There's a lot of cool stuff going on and it's really cool to be a part of it."
Another praised aspect of Pop-Up Avenue is it's large selection of vintage clothing and items. "I think it's a great way for people to purchase reused and kind of more vintage clothing that's better for the community," Lucy Chang, a sophomore at State High, said. 
Many vendors have little experience with participating in Pop-Up Avenue, such as Tifani Truelove and Lily Rentzel of Dove & Dragon. Originating in Lancaster, PA, Dove & Dragon sells a wide range of vintage items and clothing. Truelove feels as though there are many rewarding aspects that come with being a vendor and enjoys the connection that vintage markets can bring to all generations.
"It's a really beautiful crowd and a huge range so I feel like the age range is really beautiful," Truelove said. "It's got a nice reach across the board there so its so beautiful to watch moms and daughters and you know, the older generation and the younger generation find something that really excites them."
Pop-Up Avenue continues its growth and popularity each year and will return to South Fraser Street for its spring event. "It brings community together," Truelove said. "I think it's building beautiful community."
About the Contributor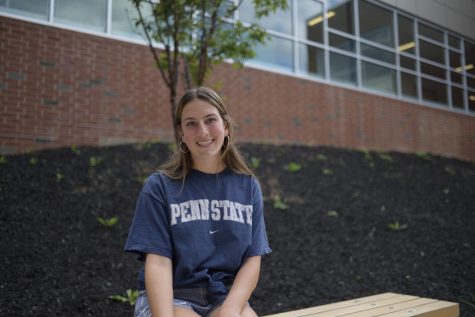 Rachel Foster, Yearbook Clubs Editor
Rachel Foster is a senior in her third and final year of journalism. She fell in love with the program after accidentally joining the class, and now hopes...