Fall around the Nation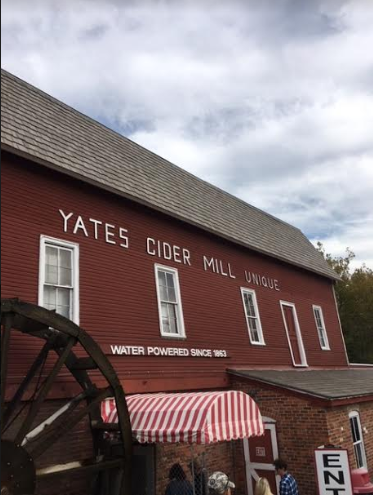 Way Fruit Farm is a big hit, especially around the fall time. There are many fall foods to try, games to play, pumpkins to be picked, contests to enter, activities to do, and much more. But have you ever thought about how people around the nation celebrate this fall season? Such as people in Michigan?
I recently had the chance to attend Yates Cider Mill, Rochester Hills, Michigan. It was a fun opportunity as I was able to taste freshly made cider donuts that were made that morning and also try some fresh chilled apple cider. There was also an animal farm, pumpkin and apple picking locations, and trail walking that went on for miles! There were also trails that branched off of the main trail walkway. However, most of the people were there for the cider and donuts that brought out that specific fall feeling, especially as the leaves change color and fall as you enjoy those treats.  
I was able to compare and contrast Way Fruit Farm from Yates Cider Mill. Both are very fun and enjoyable for the fall season that we are in. I grew up in Michigan, so many memories came to mind as I walked around Yates. Way Fruit Farm and Yates are both great locations for memory making. Whether it be going as a family, or seasonal treats, smells, and feelings, Way's and Yates make great memories for many. Both Yates and Way's offer scrumptious cider donuts and apple cider. One thing that I was able to point out about Way Fruit Farm is that you get to go out into the pumpkin patch to pick out your own pumpkin, where at Yates they are pre-picked and placed in a tent where you go in a pick out the one you want. Way Fruit Farm does hayrides to pumpkin patches, while Yates Cider Mill offers walking trails where you can simply admire the fall season. 
Both Yates and Way Fruit Farm were packed with people, not only for cider and donuts but because of tradition and memories. Both places do a wonderful job of keeping fall traditions alive and attracting many to their locations. 
If you have a chance, go head out to Way Fruit Farm and pick those pumpkins, eat those cider donuts, drink some delicious cider, and get involved with these fall traditions as you enjoy this fall season heading into November!