Owl Be There
The Shaver's Creek Owl Prowl is a hoot!
Living near Penn State University means living in an area that is being progressively urbanized to fit the needs of the modern world. Buildings in downtown State College are constantly being rebuilt or renovated and everybody seems to be in a rush. Luckily, you don't have to go far to find some peace and quiet. Shaver's Creek is a Penn State funded environmental center that hosts many fun and educational events throughout the year, including their Fall Owl Prowl.
The Fall Owl Prowl is an educational event that covers the basics of native Pennsylvania owls. It was hosted on Saturday, November 9th, from 6 to 8 p.m. The program was led by volunteers Carolyn Muse and Rodney Brubaker, who have both been interested in birding from a young age.
"Ornithology has been both a hobby and a passion of mine since I was eight years old," Muse said. "Moreover, I have volunteered at Shaver's Creek for the last thirteen years and most of that time has been devoted to on-site and traveling raptor shows."
"I started birding when I was seven or eight years old, and at that point, it was maybe songbirds, like a cardinal or chickadee, like bird feeder birds at the window," Brubaker said. "And then I went to birds of prey, and I liked that too."
Brubaker and Muse have been long-time volunteers at Shaver's Creek and their involvement in the production and execution of the Owl Prowl program shows just how passionate they are about the project and birds of prey. "I started volunteering here at Shaver's Creek in August of 1992 (this summer was my 27th year here at Shaver's Creek) and at that point I was doing all of the work with the birds and the enclosures and feeding and cleaning cages and enclosures and then I worked up to doing bird shows on the weekend with a few birds. The Owl Prowls started around that time," Brubaker said.
To ease the audience into the fascinating world of owls, the program started off with an educational slideshow given by Muse that covered everything from the common owls of Pennsylvania to the reasons behind why these owls are such great hunters. It was coupled with Brubaker's famously accurate bird calls demonstrating a species-specific call for each common Pennsylvania owl which included the screech owl, barn owl, barred owl, and great horned owl. The audience was also given the Latin name and basic lore for each owl.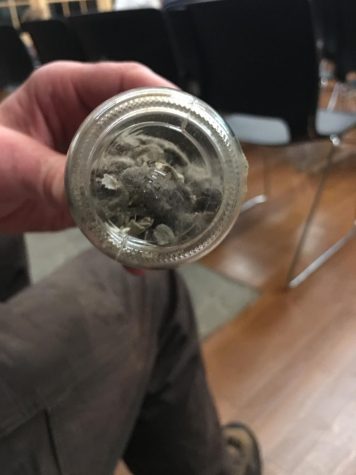 Between the props and the easily-understandable information, it isn't hard to become curious and learn more about the nocturnal world of these silent raptors. "I do enjoy birding, my wife is actually the one who brought me into the birding world, so I'm new at it, but I'm enjoying it. I'm not really familiar with owls so I came to learn and become more familiar," Michael Yeaton, an attendee, said.
The chilly November air and clear night provided the perfect background for the post-presentation nature walk and, once everyone had clicked their flashlights off, Brubaker began to call the owl most likely to nest in the Shaver's Creek area, the screech owl. Each call lasted for around a minute or two with a minute of rest in between so that a reply could be heard. It took three tries but after the third call had been sounded, a faint screech owl could be heard in the distance.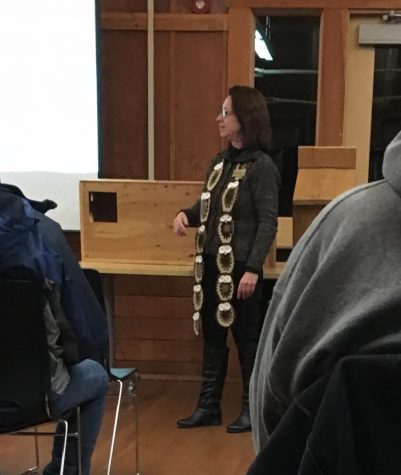 The correspondence between human and bird went back and forth for about four minutes before the group migrated to behind the nature center where another conversation with a screech owl was held. The last stop was the border of the forest behind the raptor cages. To mix things up, the barred owl call that sounds amusingly like "Who cooks for you? Who cooks for you all?" was used to prompt a response from any owl that might be listening. However, any owls that may have tried to respond were interrupted by Shaver's Creek resident golden eagle, whose chatty attitude eventually ended the nature walk and closed off the night on a relatively high, if not hilarious note.
The event was informational and interactive, but also emphasized the need for environmental conservation and the ways that one can help  local species. "As a volunteer educator, one of my goals is to share with younger generations that the continued survival of said invertebrates, insects, amphibians, reptiles, fishes, birds and mammals is somewhat dependent on human action," Muse said. "For example, during the owl prowl programs, I mention that the barn owl is a threatened species in Pennsylvania due to loss of suitable nesting structures and the decrease of grassland habitats. While humans have caused the decline of barn owl populations, the same humans can also help increase their numbers by learning about their breeding habits/survivalship and building nest boxes in suitable habitats."
If you have time to step away, consider going to Shaver's Creek and attending one of their popular seasonal events. There will most likely be another Owl Prowl between late February and early March, but, in the meantime, you can always visit their nature center and raptor rehabilitation center which is open from 10 a.m. to 5 p.m. every day of the week. As humans, it's not hard to forget that we share the Earth with other organisms, but the Owl Prowl event and Shaver's Creek as a whole not only work to realign this slightly selfish perspective but also help people reconnect with nature.
"Moreover, the beauty and enjoyment of nature resonates throughout all of us in some fashion–vibrant fall foliage, a mother bear with twin cubs following her, a whale emerging from the depths of the ocean, blossoming of flowers in springtime–these images, among many others, evoke feelings in us that drive us to want to preserve those images for our memories as well as to create memories for future generations to enjoy," Muse said.