Fun with Fantasy Geo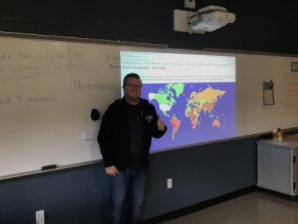 Fantasy Geopolitics, or Fantasy Geo for short, is an activity that is rapidly spreading throughout State High history classrooms because of its fun and educational brand of competition. The game is simple: At the beginning of each season, teams of four to five students will "draft" a group of countries. At the end of each week, however many times each country has been mentioned in The New York Times earns that country a point. At the end of the season, the team with the most points wins.
This point system isn't the only part of the competition. There's also a segment where each student researches their chosen country and might have to present a current event for that week. Failing to do so leads to a loss of points. Another section pits two teams together in a class-wide competition where the teams are quizzed on current events in recent news. The winning team can choose to either claim a small prize (candy is usually the option) or take another country from the opponent's team and add it to their own roster.
This competitive spirit pulls kids in across the board. "When we first did Fantasy Geo in class, it felt like a nice break from the usual note-taking routine," Nicholas Sloff, a freshman in Mr. Kimbros world history class, said. "It really helps in class because we get the opportunity to learn important news from around the globe that we might not be otherwise exposed to."
Not only are kids taking a liking to the challenge, but it also seems to help class productivity. "I definitely see a strong incentive for people to get their [Fantasy Geo] work done," Sloff said, "because there's a sense of having to pull your weight, and you don't want to let your team down."
The idea of Fantasy Geopolitics wasn't created here at State High. Tenth-grade world history teacher Mr. Schiavi brought the concept home after a trip to Lancaster, Pennsylvania in 2015, when he came across an article about social studies teacher Eric Nelson, developer of what was known then as "fantasy football for global current events." 
"I thought that it was a new and exciting way to interest students in current events," Mr. Schiavi said. "I spent the rest of the school year and the summer researching the game, working through questions that I had with the founder, Eric Nelson, and developing my own structure for how to play at State High." The news spread since, and slowly but surely Fantasy Geo began to rise in popularity.
"Initially," Mr. Schiavi said, "Mr. Kimbro and Mrs. James were the two teachers that expressed interest, and I think that was only because they were relatively new and hadn't established a lot their own activities yet. Together we tweaked and refined the game, and as its popularity grew with students over the years, more teachers chose to play the game with their classes."
As it grew, the game changed with the circumstances. "The class of 2018 was also instrumental in refining the game into what you know today," Mr. Schiavi said. "Originally, the game was much more complex; with a postseason that was judged by peers, and a Superbowl that was played between different classes. Even the number of countries, ideal group size, penalties, and how long each season should last was adjusted based on feedback and suggestions from this group." Since its start all the way to today, Fantasy Geo has been a success. It was described that even in the past, there was an alumni team. With these developments constantly a possibility, and the popularity growing, there's no telling how much Fan Geo could grow in the future.