Casting Crowns Tour hits the BJC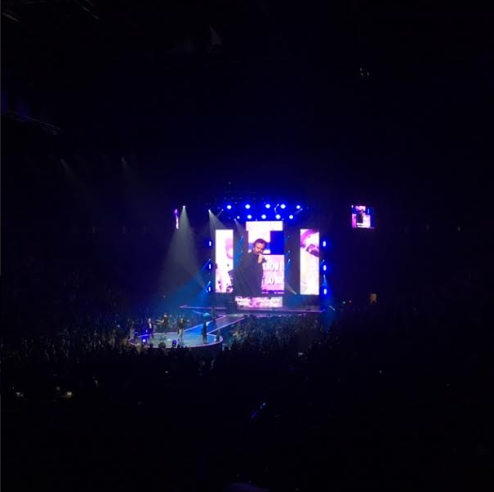 What does a concert look like to you? Is it loud? Is it obnoxious? Everyone's opinion on concerts can be different. But one thing they often have in common is anticipation. The anticipation to have your mind blown away, to sing your heart out, to raise your hands. People are in unison, whether you know them or not, you're connected by the music. This was the atmosphere of the Casting Crowns Concert on November 20th.
The Casting Crowns Concert began with Elevation Worship. One of the two megachurch worship teams was there that night. Their music included their older songs, but also from their newest album called, At Midnight which included one of their main songs, See a Victory. One of the verses of the song was: "I'm gonna see a victory, For the battle belongs to You, Lord." The message conveys that there is no darkness, no pain, no hopelessness too great for God. It was mind-blowing to see so many people gather together to worship. You may not have known everyone, but through worship, we were all connected as one.
The next band to play was Hillsong. They were the second megachurch worship team. They played a few worship songs, but then one of their singers, Brooke Fraser, spoke. She read from Hebrews 12 in the Bible. She talked about how God clears the way, and that it's time that we start moving. It was a very chilling and powerful experience to be apart of.
The last group to lead was the main contributor to the concert, Casting Crowns. Their music is featured on the radio station, K-Love. Many times when you hear a song, it hits home. But when you hear the backstory to a song, the power of it grows. It was that way for band member, Mark Hall. Hall spoke about his journey with cancer. How it was a dark journey, that he didn't know if he was going to live or die. One of the verses from the song is:
"Oh, my soul
You are not alone
There's a place where fear has to face the God you know
One more day, He will make a way
Let Him show you how, you can lay this down
'Cause you're not alone". 
Hall's story about his victory after battling cancer, and his increasing hope and trust in God, was bone-chilling. He showed many people that night that hope isn't going to be easy and it's a choice to make.
"Thank you for coming out," Hall said late that night and then ran off the stage. It left the whole crowd confused. Everyone knew the concert was coming to an end, but not like that. The expectancy for one more song was fading, just as Hall came back on stage with Elevation Worship as they led one more song, Only Jesus. In closing, the concert was mind-blowing and truly powerful, as it seemed all around that the presence and glory of God was in the room, where we all chose to worship.