Mental Health Resources Available Outside of School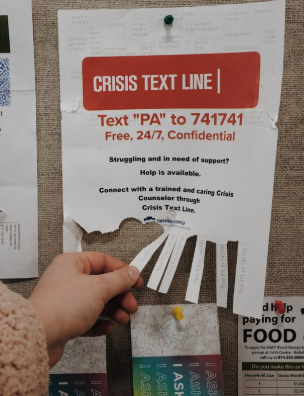 For many students struggling with their mental health, speaking up can be very challenging–especially when they feel that they have no voice. In school, it may be simply too much to talk to a guidance counselor or turn to another resource for help. "I'd feel comfortable talking to people in school if I needed to, but some people might be kind of uncomfortable with it, so if they know an outside source it might make them more likely to get help if they need it," sophomore Layla Thornton said. The rate of students struggling with mental health issues, such as depression or anxiety, continues to rise nationwide, and State High is no exception to this trend. Fortunately, there are many resources throughout the community that provide support and services for students who may be struggling with mental health issues.
Safe2Say Something
Safe2Say Something is a statewide initiative that has been implemented in Pennsylvania. Available to students at State High, Safe2Say Something is a youth violence prevention program that teaches students and adults how to recognize warning signs, typically found on social media, and encourages them to "say something" before it is too late. In addition to reporting threats, students also have the ability to refer people if they are concerned about their peers harming themselves, using drugs and alcohol, and more. Students can download the app or go online and click "Submit a tip," which will let someone know about the situation happening. There is also a hotline and students can text with a trained crisis counselor.
IMH: Integrated Mental Health
Integrated Mental Health Services are available to students, families, and faculty/staff through the schools. Services include assessment and evaluation, consultation and collaboration, individual, group, and family therapy, and targeted trainings. Referrals can be made by SCASD staff members, but they recommend that students make referrals through SAP. The IMH team is made up of district leaders of student services and special education, contracted by mental health providers and the county mental health authority. The team reviews referrals on a bi-weekly basis to make sure that all students receive services in a timely manner. Their vision is "to support a school environment in which all children are emotionally prepared and ready to learn."
HEARTS: Helping Elementary At-Risk To Succeed
HEARTS is a collaborative program between the State College Area School District and Home Nursing Agency(HNA) which provides elementary students the opportunity to receive academic and therapeutic needs in one location during the school day. Their mission is to provide students with individualized instruction in all academic areas in addition to counseling and support to address mental and behavioral needs in a supportive environment, in hopes of eventually being able to transfer back to a public school classroom. The curriculum was written by State College Area School District elementary school teachers and focuses on individual needs. Students also receive therapy sessions. For more information, visit https://www.scasd.org/Page/221.
Straight Talk
The Straight Talk Task Force is made up of representatives from the Jana Marie Foundation, the Youth Service Bureau, Communities That Care Partnership, and State High administration, faculty, and staff. It is an educational series for parents that was designed to teach about potential problems that could occur during developmental years for young people and how to help children before problems take negative impacts on their life. There are currently eight sessions scheduled for the 2019-2020 school year. For more information, visit https://www.scasd.org/straighttalk.
Centre County Can Help
Centre County Can Help is an organization that offers mental health/crisis intervention as well as a drug/alcohol service hotline. They also provide a mobile crisis intervention service, which comes to callers. Their emergency hotline is available 24/7, which is convenient in the wake of an emergency. Centre County Can Help's services include intervention, screening, counseling, follow-ups, referrals, support/coping skills, and service coordination. Their hotline is 1-800-643-5432. 
Hotlines
Emergency: 911
Purpose: for emergencies to need immediate action
Crisis Text Line: Text 'PA' to 741741
Purpose: texters will be connected to a crisis counselor who will talk to them through text
NSP Lifeline: 1-800-273-8255
Purpose: for anyone considering suicide
Under 21: 1-888-UNDER 21
Purpose: to report underage drinking
Children & Youth Crisis Line; 1-800-479-0050
Purpose: to report that you or youth you know are being harmed
CentreSafe Hotline: 1-877-234-5050
Purpose: for reporting domestic violence and for survivors of domestic violence, sexual assault, or stalking
Childline: 1-800-932-0313
Purpose: for reporting suspected child abuse
Being aware of who to turn to in a time of emergency or when you need services is necessary for safety as well as comfort. With these resources throughout the community, support and services are provided and available for students.