"It's Like a Ghost Town": The Future Doesn't Look Bright for the Nittany Mall
Hang on for a minute...we're trying to find some more stories you might like.
On January 6th, the Nittany Mall announced that it would be closing the doors for Macy's, which has operated in the mall since 2006. Closing sales have already started in the store, marking the end of an era for the mall. The mall used to thrive on retail stores such as JcPenny, Sears, and Bon-Ton, which have since closed and left haunting and empty storefronts in their place. With the numerous closures, many have been wondering what this means for the future of the Nittany Mall. That future, unfortunately, does not look promising.
There are few stores left in the mall that truly attract customers. Many customers shop at Dunham's, American Eagle, Journey's, Hot Topic, and Claire's. However, it is undeniable that Macy's attracted the majority of customers with their diverse selection of products and larger clothing section. "I feel like closing Macy's is a big deal," sophomore Maya Ikenberry said. "They've been here for such a long time, as long as I can remember, and I feel like it's the most frequently visited place in the Nittany Mall."
Without Macy's, it's hard to tell what could attract people to the mall. 
A new trend in the mall seems to be taking the place of many dead stores. Interactive experiences have opened up stores in the mall. New additions include a "rampage" room, an inflatable playground, a dance studio, a senior center, and Planet Fitness. While these experiences may be a fun alternative, they somewhat defeat the purpose of a shopping mall. "There isn't really much stuff there, and I don't really go there often," freshman Sophia Abashidze said. "If I go, I really only go to Bed Bath and Body Works."
So why is the Nittany Mall on such a rapid decline? The answer may have to do with the rise of online shopping and the death of shopping malls around the country. "I think that the mall is dying because of online shopping and things like Amazon, but the mall has had some highs and lows," freshman Layla Russell said.
Foot traffic at malls across the country have increasingly dropped in recent years, due to the popularization of ordering online, as well as stores having higher prices that people don't want to pay. Another issue with the Nittany Mall is its location. It is on the outskirts of State College, and many people don't want to go out of their way to shop at a place with few stores.
While the Nittany Mall appears to be steady at the moment, there is no doubt that it will have a downfall in the coming years. While it's sad, it is nice to reflect on the memories and stores that will always have a special place in the heart of the mall. Hopefully, the mall will be able to maintain business, but one thing is for sure–no one knows what the future holds, and only time will tell for the fate of the Nittany Mall.
About the Contributor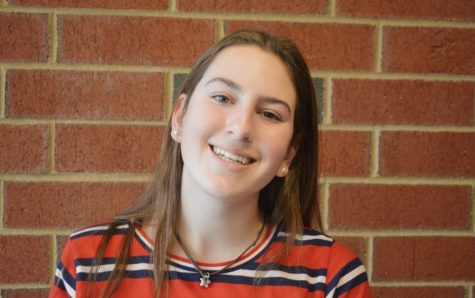 Rachel Foster, Staff Writer
Hi, my name is Rachel Foster and I am currently a journalism 1 student. Right now, I'm a sophomore and I play field hockey for school and for a club called...